Lock PDF
Our Lock PDF tool secures your PDF files with passwords so that no one can assess your confidential information without your permission. Only those people to whom you give the password of your PDF will be able to access this file. Let's lock your PDF file!

Lock PDF Files Online
In today's digital age, many sensitive documents are shared electronically as PDF files. Financial statements, legal contracts, medical records, and proprietary business info often exist as PDFs. But how can you lock down and restrict access to confidential PDF content?
Password-protecting your PDF documents offers an easy yet powerful way to control who can open and view the contents. By adding password encryption, you protect intellectual property, client data, and valuable information. The SeoTopTools Lock PDF tool makes securing PDF files with passwords so that no one can assess your confidential information.
Daily Search Query Usage Limit for Our Tool is Explained Below:
| | Daily Usage | Single File Size | No of Files Upload at Once |
| --- | --- | --- | --- |
| 👤 - Gust Users: | 10 - 🔎 Search Query | 15 - 💾 MB | 5 - 📁 Files |
| 👋 - Registered Users: | 15 - 🔎 Search Query | 25 - 💾 MB | 10 - 📁 Files |
| 👦 - Basic Premium Users: | 25 - 🔎 Search Query | 156 - 💾 MB | 15 - 📁 Files |
| 👨‍✈️ - Professional Users: | 35 - 🔎 Search Query | 4096 - 💾 MB | 15 - 📁 Files |
| 👮‍♂️ - Agency Users: | 50 - 🔎 Search Query | 4096 - 💾 MB | 15 - 📁 Files |
| 🏢 - Enterprises / Organizations: | 75 - 🔎 Search Query | 4096 - 💾 MB | 15 - 📁 Files |
How to protect PDF files with Lock PDF Tool online?
To add a password to a PDF, follow these steps: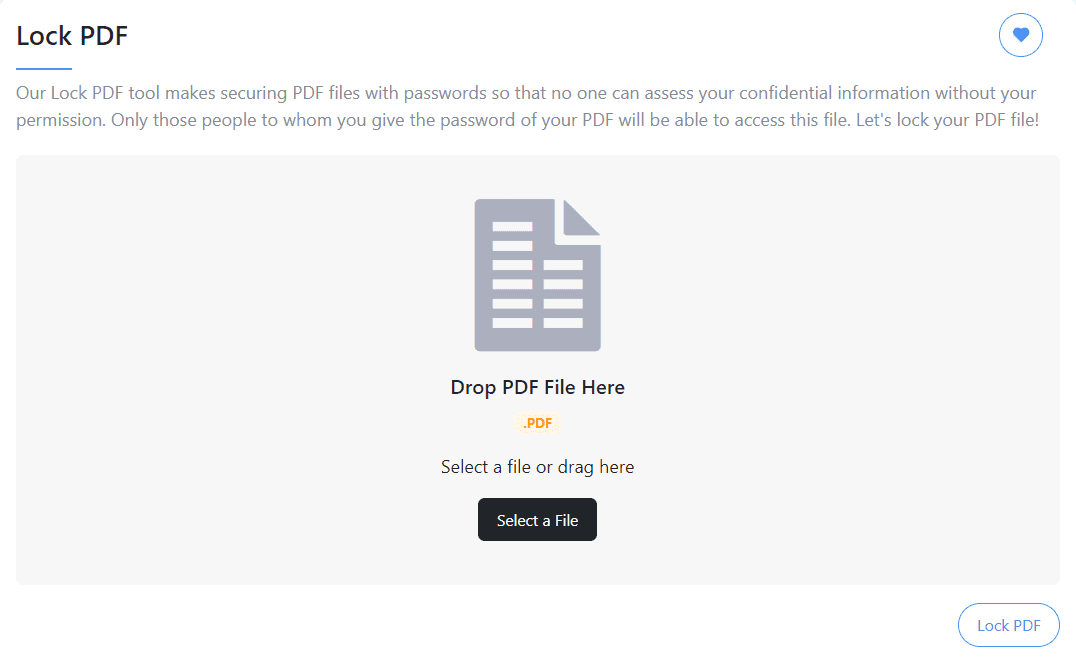 Go to Lock PDF Page.
Add your PDF by dragging it into the toolbox above or by clicking "Select a File".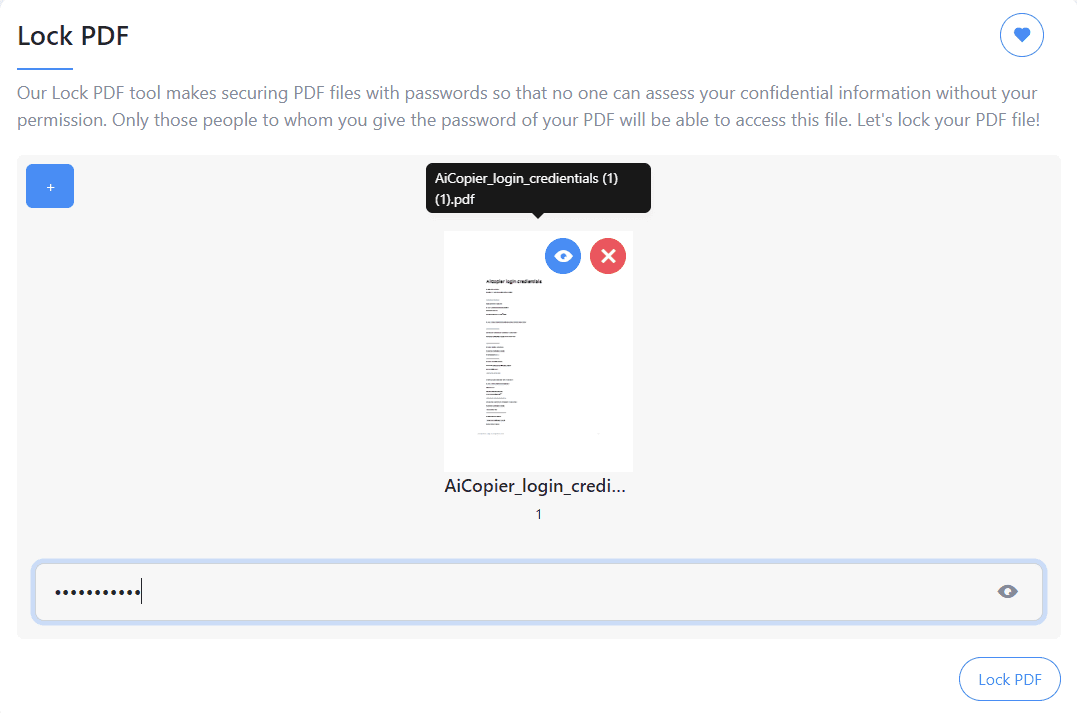 Enter the password you want to use to lock the PDF file.
To password protect the PDF file, click the "Lock PDF" button.

Download your password protected PDF file by clicking on download button.
What Is Password Locked PDF?
A PDF encryption or password-protected PDF file is a procedure that restricts access to PDF-encoded data. Access controls, such as registration codes or passwords, can be used to unlock a lock on a PDF document.
The creation of PDF locks involves the usage of software that can need networks, user identification codes, and registration codes. If you want to make sure that no one can access a PDF file without the right key, you should encrypt it. PDF locks, like any other lock, come in many grades.
A password is used to authorize access to the file content in order to secure a basic PDF file. The password can, however, be readily forgotten or disclosed with the use of Unlock PDF Tools, therefore this kind of PDF encryption isn't particularly effective. Sometimes the password is made public together with the paper, which is not a very smart strategy. You must use a PDF encrypt method to secure PDF. A complete PDF lock is significantly more effective since it produces a more reliable method of protecting PDFs online or from altering. The PDF protection may now be broken with considerably greater difficulty.
Secure PDF using SeoTopTools
If the lock has certain features of physical locks, such as only being accessed at specific times and not opening the lock if the surroundings are incorrect or unreliable, it may be easier to password-secure PDF files from changes. Therefore, rather than having an easy mechanism, the PDF lock has a granular and encrusted design. You have the choice of locking or leaving open certain aspects in a PDF file, as well as under what conditions and for how long.
A PDF must have password security. You no longer need to bother about creating a password for a pdf file in Adobe Reader. A Lock PDF Tool is available online at SeoTopTools. There is no better way to password-secure PDFs on Mac or Windows from altering than to lock PDFs online. The encryption is what genuinely secures PDF documents, even though it would appear that the password is the key. You may lock PDF online when preparing a document with PDF software. A good PDF tool is all you need; it will take care of the rest.
Advantages of PDF Password Protection Encryption
An encryption algorithm crawls the file contents in the background. After that, the file will only be accessible to those who have the password or encryption key, allowing them to see and update it.
This helps to offer an additional layer of protection for all the material that contains sensitive or secret information. This procedure can help to safeguard publishing and PDF rights.
Common PDF password cracking tools will struggle to crack the password if the PDF lock tool has a strong encryption technique and a strong password.
With the help of this effective tool from SeoTopTools, you can secure PDF files by locking them and requiring a password to open them. Securing PDFs to prevent printing, editing, and copying could be something you're interested in doing.
Use our PDF Lock online tool to password-protect and encrypt your PDF to make it unreadable to others. To protect it, a user only needs to upload the PDF file and type the password.
Key Features of Lock PDF Free Tool
This Lock PDF Free tool was created by our experts and has some unique and exceptional features. Let's focus on the distinctive features of this tool.
- Maximum Security with Encryption
Password-protect a PDF file for free to provide optimum security with secure encryption. Many lock programs create PDF passwords that are simple to crack. Our program completely encrypts your data, making it difficult for anybody to crack the password to access them.
- Password Protection Added
Your PDF files can have passwords added to them to prevent unauthorized users from copying, printing, or altering them. Nowadays, password-protecting PDF documents is not difficult. You don't need to download or install any third-party desktop or mobile applications in order to use this convenient utility. With the use of this online tool, your private information will not get into the wrong hands.
- Protect many PDFs by Merging PDFs
If you find it difficult to remember many passwords, you may protect several PDF files at once by adding a single password to each one. You can also merge multiple PDF files into a single PDF file to save time and secure it under a single password.
- Accessible from any location
You can access the encrypted PDF file protection tool from anywhere. The tool is available to you right next to your door, no matter where you live in the world. The service is easily accessible from your home, workplace, or even from a public location. To access the tool, all you would need is a reliable internet connection and a good browser.
- Careful Handling
SeoTopTools is concerned with the information that users provide to us. We maintain user privacy, and we never share any of your personal information with outside sources. We don't save any of the password-protected PDF files that you submit in our database. The protected file is removed from our server once you download it. As a result, you won't need to be concerned about the privacy of your information.
- PDF Locker Free
The online Lock PDF Tool is completely free. We're offering the option to password-protect PDF files for free. You won't need to remove any cash from your wallet in order to use the tool. The program to encrypt PDFs is and always will be free.
FAQs
How to Lock a PDF with a password?
The user would just need to upload the PDF file; we would take care of the rest. Your portable document file is password-protected and encrypted before being made available to the user as a download.
What type of encryption does SeoTopTools use to Lock PDFs?
SeoTopTools utilizes modern 256-bit AES (Advanced Encryption Standard) to password lock PDFs. This is an incredibly secure industry-standard encryption that essentially prevents any unauthorized access or cracking of the protected PDFs.
Is there a size limit for source PDFs I want to password-protect?
No, you can use SeoTopTools to encrypt and password-protect PDF documents of any file size from small to very large documents over 1GB. As long as it's a valid PDF, the tool can password-lock it quickly.
Does This Tool Have Any Restrictions on Its Use?
The use of this tool has no limitations in any way. You may now encrypt as many PDF files as you like. We have not placed any restrictions on the users' ability to encrypt PDF documents.
Does this Lock PDF tool work on mobile phones?
Yes, the tool works seamlessly across all platforms and devices - desktops, smartphones, tablets! All you need is an internet browser. There is no software downloading required. This makes adding encryption easily accessible from anywhere.