Google Cache Checker
Google Cache Checker tool allows you to check cached pages of your website and determine the exact date and time that your website was cached. Lets check your website!

What is Google Cache?
Every day, the Google search engine scans and analyzes billions of online pages. Google will cache a web page's content after its initial crawl and display the cached search results. As a result, Google won't need to repeatedly visit the original web server, speeding up the search process. The goal is to speed up the process similarly to how caching works on your computer and in browsers.
Google Cache Checker
The Google Cache Checker is a tool that allows you to check cached pages and determine the exact date and time that your website was cached. A copy of the page is stored in Google's cache. Each web page is taken as a copy by Google, which then keeps (caches) the copy as a backup. Enter the URL to find out when your website was last cached.
Daily Search Query Usage Limit for Our Tool is Explained Below:
| | Daily Usage | No of Domains |
| --- | --- | --- |
| 👤 - Gust Users: | 10 - 🔎 Search Query | 2 - 🌎 Per Request |
| 👋 - Registered Users: | 15 - 🔎 Search Query | 5 - 🌎 Per Request |
| 👦 - Basic Premium Users: | 25 - 🔎 Search Query | 10 - 🌎 Per Request |
| 👨‍✈️ - Professional Users: | 35 - 🔎 Search Query | 20 - 🌎 Per Request |
| 👮‍♂️ - Agency Users: | 50 - 🔎 Search Query | 30 - 🌎 Per Request |
| 🏢 - Enterprises / Organizations: | 75 - 🔎 Search Query | 50 - 🌎 Per Request |
About SeoTopTools Google Cache Checker
Use this Google Cache Checker to see whether your web pages are included in Google's search index.
The Google page cache of your websites is quickly checked by Seo Top Tools' web cache reader. This is a quick and simple way to see if Google has listed the pages on your website. This tool will inform you whether Google is aware of the existence of a particular website and whether they have added it to their index so that it will appear in search results.
You may use this online tool at any time to check if Google has cached any of your web pages and whether they are included in Google's search index.
Webmasters and SEO experts can check the cached version of a website with the help of our online Google Page Cache Checker. You may test the website cache from any location as long as you have an internet connection; nothing has to be downloaded. You may quickly and easily do the detailed analysis you need based on the data.
Our Google Cache Checker may be the best solution for you if you are an SEO professional who has to produce personalized reports that include data analysis but are short on time. It is completely free and has a user-friendly design that makes it possible to quickly create the results you need without having to wait a long time for a response. You may carefully examine a specific website and include accurate information about Google cache status for each website URL, depending on when it was last updated or altered.
If you are a website developer, you should be aware of this useful tool, which is proudly given by Seo Top Tools. The Cache Checker shows the most recent date and hour that your site was functional before going down. The Google checkers on the Seo Top Tools website show every link and piece of data that Google has cached. It implies that all of your site's indexed links can be identified as cached URLs.
How To Use Google Cache Checker Tool?
If Google has cached any of your website's pages, you can find out straight away with this free online tool. Here are steps on how to use Google Cache Checker.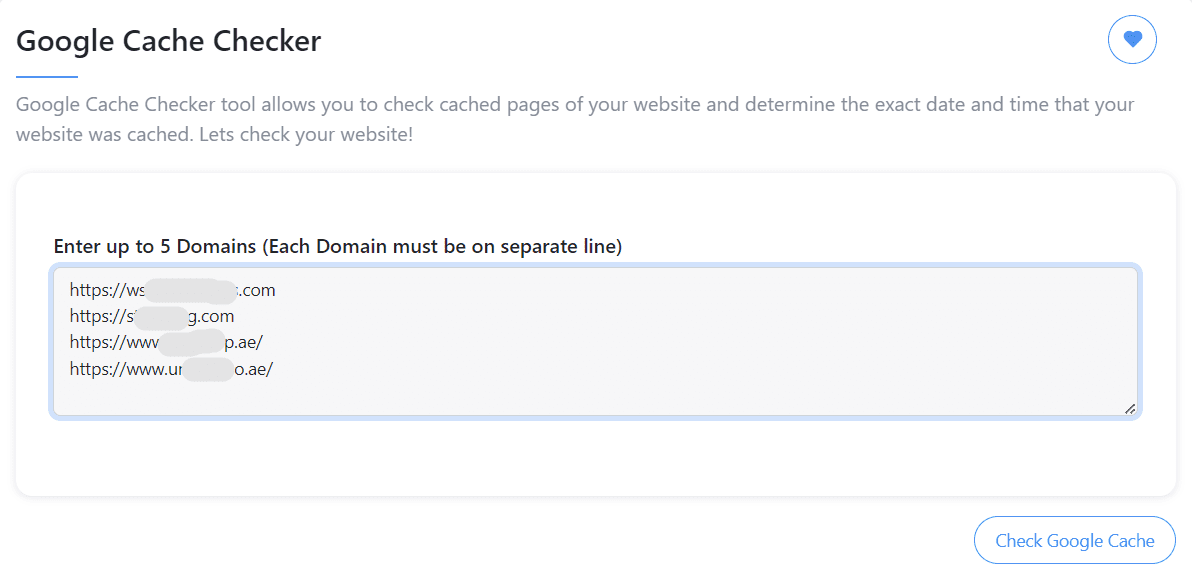 In the search box, enter the full domain of your website.
Click the "Check Google Cache" button next to the domains box.
The tool will start processing your request to look up the cache.
Within a few seconds, the results will be displayed on your screen.
You will see either the cached snapshot of the webpage from Google's servers or a message stating that the cache could not be found.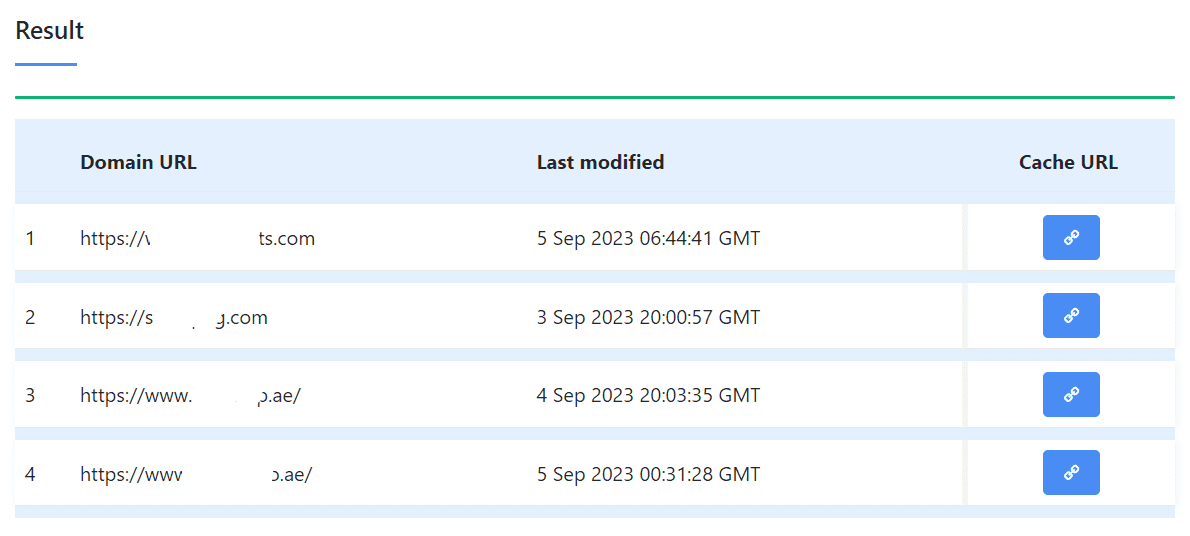 Review the cached page snapshot or the error message to determine if your page is cached by Google or not.
Use this information to understand if search engines have an updated version of your page indexed or if the cache needs to be refreshed.
Why is our Google Cache Checker Important?
Our Cache Analyzer tool is very important since it really benefits you. For example, you might have to shift your website from one website server to another if your website hosting plan has become ineffective. Your DNS domain server address has to be updated first, and this can take anywhere between 24 and 72 hours. If someone tries to visit your site during these hours, Google will direct them to cached pages, and the date and time above will show when the site was online. Therefore, it is an essential element that enables your visitors to view a website that is genuinely unavailable.
Why use SeoTopTools Google Cache Checker?
You need a Google Cache Checker to find out which of your web pages Google has already cached. Web documents can be temporarily stored in the cache for usage at a later time. HTML code and graphics may both be present in these online publications. A cache is used to reduce server load and bandwidth consumption as well as potential delays. Therefore, a web cache is able to store various web documents that come via it. Therefore, if specific requirements are satisfied, any successive requests may likewise be approved from the cache. Quickcache and jpcache are two of the most often used caching techniques.
This Google web cache checker tool may be very helpful to you if you are a website owner or webmaster since it will tell you all of the information and links on your website that Google caches. As a result, all links that Google indexed are also referred to as cached URLs.
This website cache checker tool is important since it may be highly beneficial to your SEO efforts. Your domain's DNS server address must be updated if you want to move your website from one hosting server to another. This process typically takes 24 to 72 hours. If a user tries to access your website during this time, Google will direct them to cached links that represent the page's previous state. This is why the cache analyzer tool is so important since it enables users to still access your website even while it is down.
This Google cache checker may be used by SEO professionals to provide reports that contain a thorough study of a certain website. Because the process is so simple and the results are available right away, this tool allows the user to save a significant amount of time and effort. You can now evaluate your website and quickly obtain information on the Google cache state for each URL depending on when it was last updated, eliminating the need to manually verify the web pages. You will be given current information as well as the creation date of each cache. It can make it simple for you to identify any faults or problems that your web pages may be experiencing.
Learn More About Google Cache Checker
The cached version will be kept by Google exactly as it was when it last visited the website. The cached version of the website might change from the current webpage that you view when you click on the website URL in the search results.
Google will just store the previously indexed copy in their cache each time they visit your page and index the material. With the help of our Google Cache Checker tool, you can determine whether Google has cached your web pages and when the most recent content update occurred. This tool's goal is to provide you the freedom to verify your cached copy whenever you choose.
We are aware that one of the greatest approaches to achieving high Google results for your website is by producing original and up-to-date content. But it's also important to confirm that Google was able to crawl and index your website.
Every web page is captured and stored as a backup when Google Spider crawls and analyzes your website. In order to determine whether or not the cached version fits the user's search query when the time comes, Google will utilize the version that has already been cached. Every search result includes a link to a cached copy of the website, which takes the user to the website's cached page. When a website is briefly unavailable due to a technical problem, it is quite advantageous.
You may be wondering whether Google has truly indexed our website or whether Google genuinely is aware that it even exists. You may use this tool to find out by searching the Google cache of any website. This will show you the exact date and time when Google cached the most recent version of your website.
Regularly checking your site's Google cache will allow you to stay on top of technical problems before they affect your SEO. Pair this with monitoring ranking positions and SERPs using Google SERP Checker for the best assessment.
FAQs
Why is checking the Google cache useful for SEO?
Examining the cached version of pages reveals potential issues that may be affecting your SEO, like outdated content, errors, or pages missing entirely. This allows you to diagnose and fix technical problems.
How often should I check my site's Google cache?
It's a good idea to regularly check cached versions of your most important pages, such as your home page, product/service pages, and blog. Monthly checks can help spot issues.
Does Google Cache Checker work for other search engines?
No, this tool is solely for checking pages cached by Google. For other search engines, you would need to use their specific cache check tools.
Will my Google cache update automatically?
Google will eventually recrawl pages and update the cache automatically. But this can sometimes take weeks or longer. Doing periodic cache checks allows you to refresh it faster if needed.