Watermark To PDF
Our watermark to PDF tool makes it easy to add custom watermarks to your PDF documents. You can add text or image watermarks to your documents. Let's protect your PDF document!

Add Watermark to PDF Online
Sharing confidential, sensitive, or copyrighted information in PDF documents creates security issues. How can you stop your PDF content from being misused? A simple method to protect your documents is to add a watermark.
The SeoTopTools Add Watermark to PDF tool makes it simple to rapidly add visible watermarks to your PDFs before sharing. Your documents are kept secure by using watermarks inserted in text or images. Simply upload your PDF, type in your desired watermark text, customize font, size, opacity, and placement, and then download the watermarked file.
Daily Search Query Usage Limit for Our Tool is Explained Below:
| | Daily Usage | Single File Size | No of Files Upload at Once |
| --- | --- | --- | --- |
| 👤 - Gust Users: | 15 - 🔎 Search Query | 15 - 💾 MB | 20 - 📁 Files |
| 👋 - Registered Users: | 25 - 🔎 Search Query | 25 - 💾 MB | 30 - 📁 Files |
| 👦 - Basic Premium Users: | 40 - 🔎 Search Query | 156 - 💾 MB | 50 - 📁 Files |
| 👨‍✈️ - Professional Users: | 70 - 🔎 Search Query | 4096 - 💾 MB | 70 - 📁 Files |
| 👮‍♂️ - Agency Users: | 150 - 🔎 Search Query | 4096 - 💾 MB | 100 - 📁 Files |
| 🏢 - Enterprises / Organizations: | 500 - 🔎 Search Query | 4096 - 💾 MB | 300 - 📁 Files |
How to add Watermark to PDF files?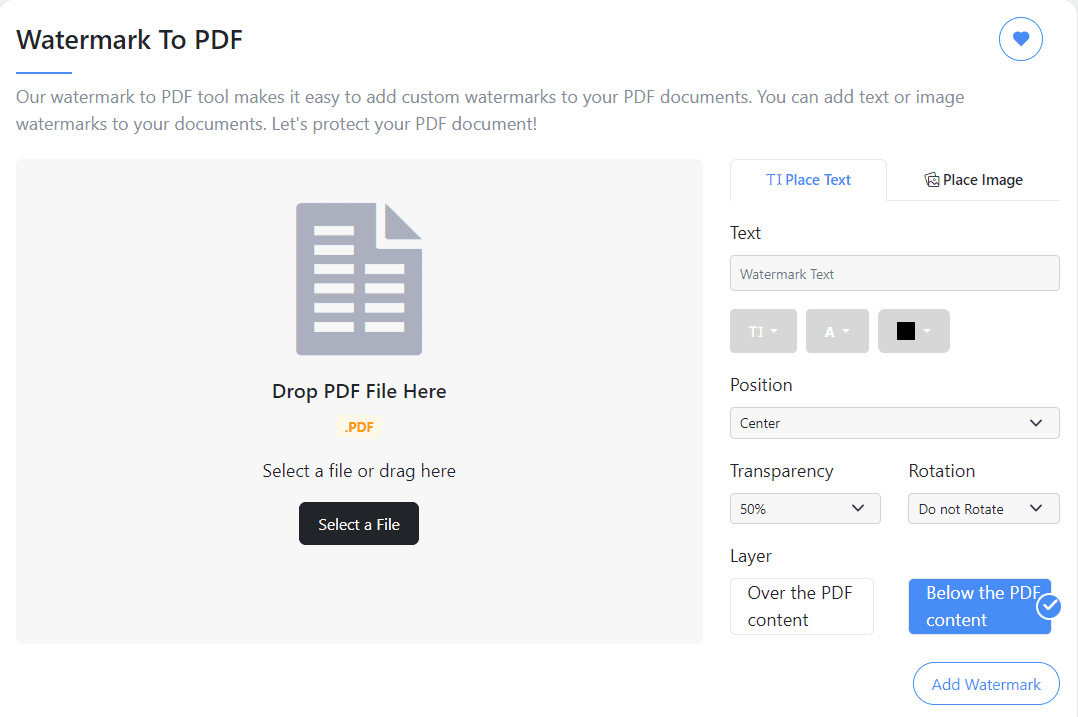 Go to Watermark To PDF Page.
First, you can upload your PDF by dragging and dropping it into the browser window or click on Select a File button.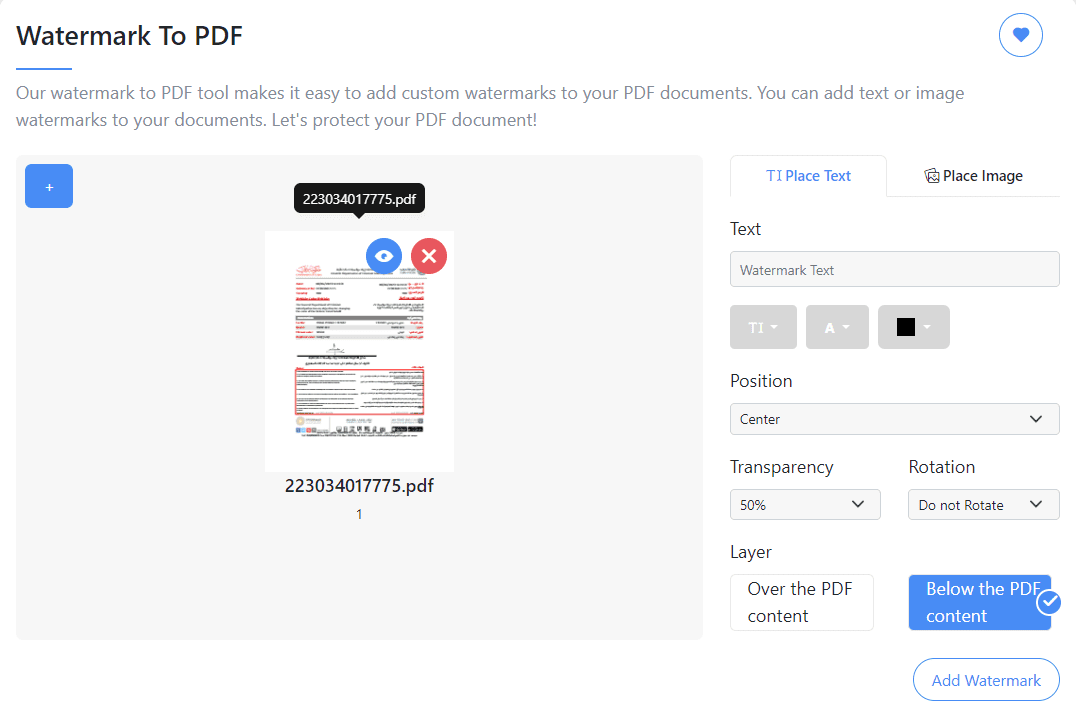 Next, choose to add either a text or image watermark. Customize the content, size, angle, transparency, and placement.
Finally, click "Add Watermark" and download the watermarked file. The original PDF remains intact.

Features of the PDF Watermark Creator
Our online tool from SeoTopTools which allows you to apply a watermark to a PDF file for free is not just offering a standard service; it also has excellent features. The following are some of this tool's features:
- Insert Image
Our PDF watermark maker does not limit users to using simply text as a watermark. You can also add an image watermark to your documents. The image should not be larger than 300kb and can be in PNG or JPG format.
- Edit Text Watermarks Added
You can add text watermarks up to 70 words long with our online PDF watermark maker. You can change the text to suit your needs. If you wish to add a free watermark to a PDF, you can alter the typeface, font size, and font color.
- Choose a side
The side settings on this add watermark to PDF online tool are not fixed, you have freedom to choose the side of their text. The center left, and right sides are your options when applying a watermark to a PDF online.
- Select Watermark Position
With our online tool, you can quickly choose the desired position for your watermark, whether you want it to appear at the top, bottom, or center of your PDF.
- No Installation Necessary
To add a watermark to your PDF file, use our online tool, which does not require installation on your computer or device. Any web browser with a reliable internet connection can access the tool. Additionally, registering on our website is not necessary in order to use this watermark tool.
- Privacy Guarantee
Our online PDF watermark generator tool ensures the confidentiality of your PDF. In any case, our tool does not save the files that users upload. When the watermarking procedure is finished, your file is automatically deleted from our systems.
- Totally Free PDF Watermarking Tool
Our online tool for adding a watermark to PDF files is free to use. You will not have to spend any money to apply a watermark to your PDF files. The application does not place any restrictions on how many files you can add a free watermark to in PDF format.
- Maintain Formatting
This program makes sure to preserve the original layout while incorporating watermarks into your PDF file. Formatting can be a difficult chore, especially if your PDF document is extensive. The formatting of your file is kept intact by our watermark pdf online tool, and no elements are added or subtracted.
Why is It Important to Add an Image or Text Watermark in a PDF File?
Add visible text watermarks or images to PDF documents to indicate that the content belongs to a specific person or organization. Everyone is aware of how important it might be to apply a watermark to a PDF file; a few of the most frequent ones are listed below:
- Safe from Theft
If you frequently visit websites and use Facebook, Instagram, Twitter, Pinterest, Linked In, Google+, or any other social media platform, you have probably noticed more images with watermarks. The reason is simple; you have probably heard or read about images being illegally altered, misused, and redistributed on the internet. A private watermark can be included in a PDF document that you want to publish. Another excellent solution to safeguard your private documents is to Lock PDF if you still desire extra privacy for your PDF file.
- Represent Your Authority
Any work that you upload to a website can have its copyrights protected by a watermark on a PDF file. On the other side, social network users and internet marketers brand the things they are pushing with a watermark. Users who see these watermarked products are immediately aware of their owners. Your competitors will not be able to use the images and papers you provide if you use watermarks. Add a watermark to the PDF file to prevent copying of your work.
- Prevention of Tampering
If a branded watermark tool was used to create the digital watermark, it cannot be removed or erased. As soon as you apply a watermark to a PDF, make sure that it cannot be altered, copied, or erased. Hackers are always attempting to erase legal watermarks. So, if you use a top-notch watermark creator to add a watermark to a PDF, it cannot be changed.
Tips for Adding a Watermark to a PDF
It can be challenging to watermark PDF files at times since you could destroy the entire thing. While adding watermarks to PDF files and other copyright material, there are a few things to keep in mind. These tips are mentioned below:
- Select a Watermark Position Smartly
It is important to position the watermark in a non-interruptive location of the document. You can add a watermark to a PDF in any area, although the right bottom corner is the recommended location.
- Watermark consistently
You must be careful when deciding where to insert a watermark in a PDF if you plan to use it on a collection of images or pages. Add a watermark to the PDF at one location across the entire file or set of photos. Do not keep moving it to a different spot on every page or image because that will make things look confusing.
- Select Colors Wisely
Choose colors that will stand out against a variety of background colors, and the watermark should be clear but undetectable. Add a watermark to a PDF to show that you own the material, but not to dominate the image's impact.
FAQs
Can I specify where the watermark should be added to the PDF?
Yes, you can specify where the watermark should be added in the PDF using our watermark to PDF tool.
How do watermarks affect the file size of a PDF?
The addition of a watermark to a PDF can increase its file size, especially if the watermark is a high-resolution image or contains complex graphics. However, the impact on file size may vary depending on the tool used and the settings applied.
Can I adjust the appearance of the watermark?
Yes, you can adjust the appearance of the watermark, including its color, size, and appearance, using the Add Watermark to PDF Tool by SeoTopTools.
Can I add a watermark to a PDF on my mobile device?
Yes, you can add a watermark to a PDF on your mobile device using our tool. Watermark maker tool works smoothly in mobile browsers on iOS and Android smartphones and tablets. There is no need to download special apps just access them through your device's web browser.