Text To PDF Converter
Our Text to PDF converter makes it simple to convert your text documents into more usable and shareable PDFs. Let's convert your document files into PDF online.

What Is Text To PDF Converter
A text to PDF converter is a useful tool that transforms text files into PDF format. A text-to-PDF converter makes it simple to convert your text documents into more usable and shareable PDFs. This enables easy PDF creation from text documents while preserving format.
Daily Search Query Usage Limit for Our Tool is Explained Below:
| | Daily Usage | Single File Size | No of Files Upload at Once |
| --- | --- | --- | --- |
| 👤 - Gust Users: | 10 - 🔎 Search Query | 15 - 💾 MB | 5 - 📁 Files |
| 👋 - Registered Users: | 15 - 🔎 Search Query | 25 - 💾 MB | 10 - 📁 Files |
| 👦 - Basic Premium Users: | 25 - 🔎 Search Query | 156 - 💾 MB | 15 - 📁 Files |
| 👨‍✈️ - Professional Users: | 35 - 🔎 Search Query | 4096 - 💾 MB | 15 - 📁 Files |
| 👮‍♂️ - Agency Users: | 50 - 🔎 Search Query | 4096 - 💾 MB | 15 - 📁 Files |
| 🏢 - Enterprises / Organizations: | 75 - 🔎 Search Query | 4096 - 💾 MB | 15 - 📁 Files |
How Do Text To PDF Converters Work?
Our Text to PDF converters tool work by taking the contents of a source text document and automatically converting it into a PDF output file. Here is the basic process: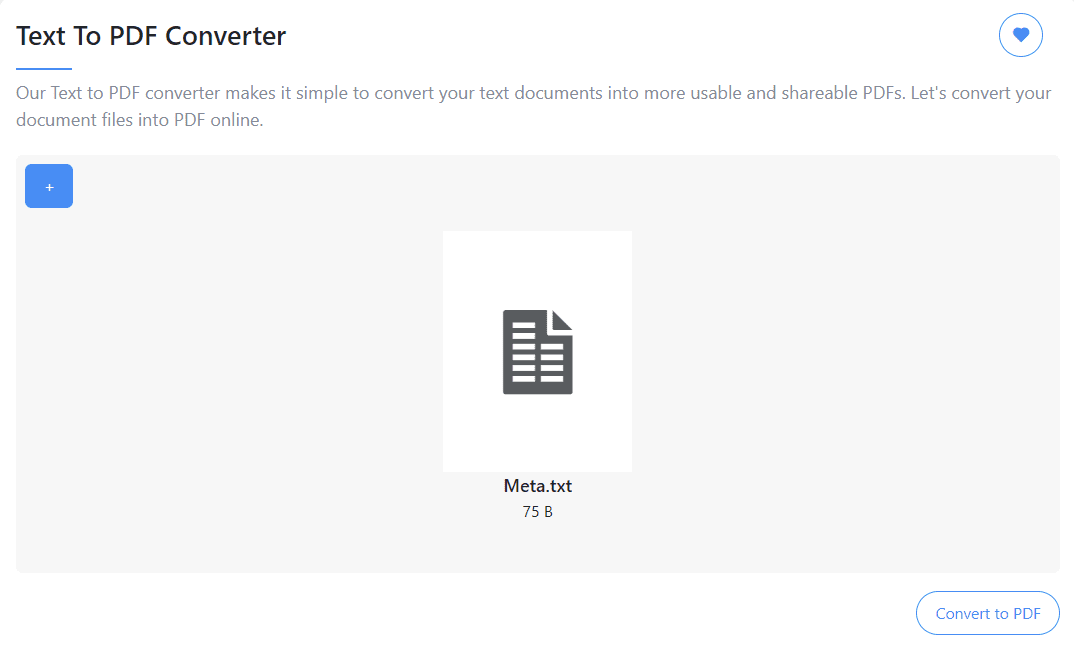 Select the text file you want to convert into a PDF.
With a click of a button, the software converts your text into a PDF file preserving all the original formatting and text styling automatically.

Finally, you can save the converted PDF file to your computer or share it directly via email or cloud storage links.
Key Features of Our Text To PDF Converter
- Quick and Easy Conversion
The automated algorithms of our Text-to-PDF converter quickly provide the desired outcomes. Yes! This program reads your uploaded file rapidly and converts it to PDF format. This online tool will not let you down with poor findings in addition to being quick. With the help of this tool, you may convert PDF files to produce ones that are of good quality.
- Privacy Maintain
With no risk to your privacy or storage of your sensitive data in its databases, SeoTopTools free Text-to-PDF converter provides you with high-quality conversion. Once your document has been converted to a PDF, the given file is deleted by this tool. Your information is not shared with any third parties by our site.
- Converting Files at Any Time for Any Device
There is no fixed window of time necessary to convert Text to PDF. These files can be converted to PDF whenever you wish. You don't need to use a certain device or sit in a specific position to use this tool. Whether you have a Mac, desktop, laptop, or smartphone, you can easily convert Text files into PDF files without experiencing any issues.
- Absolutely free
Users don't have to worry about paying anything to use this Text-to-PDF converter because it is 100% Free. Our totally free online tool allows you to convert as many times as you'd like. Customers may use SeoTopTools' services to convert text files to PDF without the need to register.
- All Platforms Are Accepted
Due to its integration, this Text-to-PDF solution is easily accessible to everyone worldwide. No matter what device you use or what operating system it has, you may use our Text-to- PDF converter.
This web-based feature may also be accessed using any web browser. Our free Text-to-PDF converter just requires an internet connection to operate.
Why Should You Use Text to PDF Converter?
There are a few advantages of converting text files to PDFs
- Wider Accessibility
One of the biggest advantages of converting text to PDF is that PDF files can be viewed, accessed, and opened on all devices by anyone using free PDF reader apps.
PDF is a universal file format that ensures the document can be accessed on any computer, mobile device, and operating system like Windows, Mac, Linux, iOS, Android, etc. Unlike text file formats that may require specific software, PDFs can be freely viewed by all recipients.
- Preserved Formatting
Converting text documents to PDF retains all of the original formatting, styles, fonts, sizes, colors, positions, headers, footers, line spacing, images, and graphical elements from the source text file and preserves them identically into the converted PDF output.
- Added Security
PDF files support adding password protections and encryption to secure the contents of sensitive documents. By using SeoTopTools Lock PDF you can lock your pdf and it provides password options to open the file.
- Easy Sharing
One of the most helpful features of converting text to PDF is that PDF is a universal file format that can be readily shared via email, online storage services like Google Drive or Dropbox, websites, or printed consistently while preserving complete integrity.
- Smaller File Size
Converting bulky text files over to PDFs significantly reduces the storage space needed while also enabling faster transfers over email and the web. This file size savings becomes even more apparent for larger documents.
- Easy Printability
When a text file is converted to a PDF, all fonts, graphics, photos, alignments, styles, and other parts are guaranteed to print as intended on both paper and digital media. The print quality feature makes sure that users view and print the PDF exactly as it appears on the screen. Because of this, PDF is a reliable sharing format for any text documents meant for printing.
FAQs
Does any of the original formatting or style get lost when converting text to PDF?
A quality converter will retain 100% of fonts, sizes, colors, positioning, images, tables, and all text formatting when converting to PDF. However, inferior tools may cause style losses.
How long does it take to convert text documents to PDF files?
The conversion process is extremely fast, usually just seconds or minutes depending on file size. Even large 100+ page documents only take a minute or two to convert to PDF by most tools.
Can I convert text documents to PDF on mobile devices?
Seotoptools offers mobile iOS and Android for converting text to PDF on smartphones and tablets, in addition to desktop version.
Is my data secure when using an online text-to-PDF converter?
If uploading documents to a web converter, be sure they use secure SSL connections during transfer and do not store or retain your files after conversion.