PNG To PDF Converter
Using our powerful online PNG to PDF converter tool convert one or more PNG images to single PDF document. Quick, easy, and efficient.
PNG To PDF Converter Online
Converting image files into PDF documents can be a difficult and time-consuming process. However, with the right tools, it doesn't have to be. Seotoptools PNG to PDF converter makes converting PNGs into PDFs quick, easy, and efficient.
Seotoptools PNG to PDF converter is a user-friendly online tool that streamlines converting PNG images into PDF documents. With just a few clicks, you can turn multiple PNG files into single PDF file.
Daily Search Query Usage Limit for Our Tool is Explained Below:
| | Daily Usage | Single File Size | No of Files Upload at Once |
| --- | --- | --- | --- |
| 👤 - Gust Users: | 10 - 🔎 Search Query | 15 - 💾 MB | 5 - 📁 Files |
| 👋 - Registered Users: | 15 - 🔎 Search Query | 25 - 💾 MB | 10 - 📁 Files |
| 👦 - Basic Premium Users: | 25 - 🔎 Search Query | 156 - 💾 MB | 15 - 📁 Files |
| 👨‍✈️ - Professional Users: | 35 - 🔎 Search Query | 4096 - 💾 MB | 15 - 📁 Files |
| 👮‍♂️ - Agency Users: | 50 - 🔎 Search Query | 4096 - 💾 MB | 15 - 📁 Files |
| 🏢 - Enterprises / Organizations: | 75 - 🔎 Search Query | 4096 - 💾 MB | 15 - 📁 Files |
How to use PNG to PDF Converter Free?
The PNG to PDF converter free online tool is the quickest way to convert a PNG file to PDF format. You may convert PNG to PDF high-quality files using an easy and simple steps: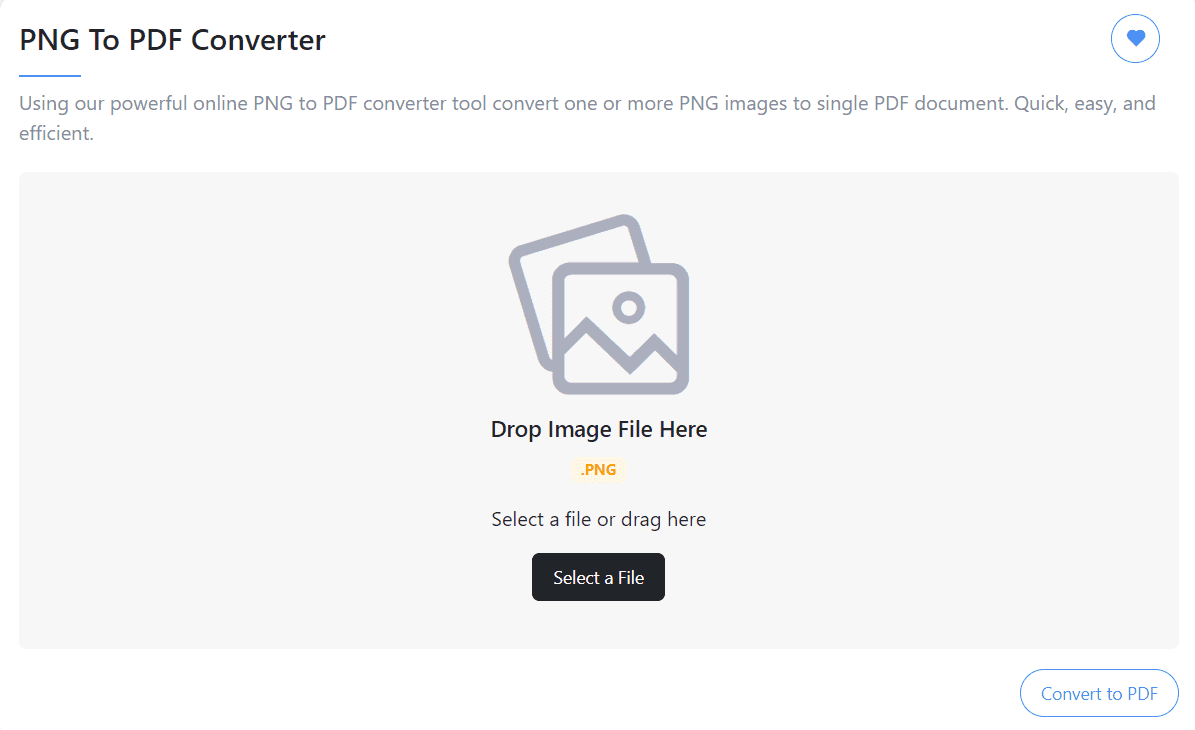 Go to PNG To PDF Converter Page.
Click "Select a File" to add your PNG files. You can drag or upload multiple png files at once.
Set some settings according to your needs and Simply Click on "Convert to PDF" button and see how this tool converts your files.

Within a seconds you will have your high quality PDF file that you can easily download by clicking on "Download Arrow" button.
Why Should You Use Our PNG to PDF Converter Tool?
The internet is full with PNG to PDF online tools that may help you in converting PNG files to PDF. But, most of these tools have limitations and restrictions that may cause problems for you. However, this is not the case with our free PNG to PDF converter. Our tool is your best partner when it comes to converting PNGs to PDF files. The effective online tool to convert PNG to PDF has the following unique features:
- Free PNG to PDF Conversion
The PNG to PDF tool on this platform is completely free. You may use this tool to combine PNG images into PDF files without having to register or pay a premium membership fee. In addition, there is no installation required to use our free online tool.
- Easy-to-use interface
Don't have any previous experience with online PNG to PDF converters? The user-friendly design of our PNG to PDF converter online tool makes it simple to merge images into PDF. You may easily convert several PNG files to portable document format files with easy-to-follow instructions.
- Ensured File Protection
It is our primary responsibility to keep your uploaded image secure and confidential, and we make every effort to do so. The advanced algorithms of our online tool to convert PNG to PDF prevent any unwanted access to your provided photos. Additionally, after the processing is complete, your uploaded images will be deleted from the PNG to the PDF converter's server.
Why is it necessary to convert a PNG to a PDF file?
The key reasons for converting PNG to PDF are listed below:
- Share Easily
When compared to other file formats, sharing PDF files is significantly easier. Users can often submit files only in PDF or doc format on internet sites. Therefore, it would be difficult to upload and share PNG files in such situations. File sharing over the internet has been simplified and made easier using online PNG to PDF converter. Additionally, if you have a large number of images to share, combining PNG to PDF files is a better option than sending them separately.
- Versatility
PNG files are commonly used to store and distribute transparent graphic components. However, textual data cannot be stored or shared in this file format. A rich format that accommodates all forms of data, including text, visual, and graphical material, is PDF. Therefore, if you want to add information along with visual aspects, convert file from PNG to PDF instantly.
- More Compatible
Unlike PNG, which requires a specific device or program to run, PDF is a multisystem file format. Also, the PDF file format is supported by all digital devices, including laptops, mobile devices, and desktop PCs. Additionally, PDF functions smoothly on any platform, including Windows, Android, iOS, and Mac.
- Password Security
The safest file type for storing or exchanging sensitive data is PDF. Additionally, this file format contains a password security function that helps in keeping your work private. You can add password to your converted PDF file by using our free online Lock PDF tool. Therefore a, millions of users convert their PNG files to PDF in order to share material through online channels.
FAQs
What's the maximum number of PNGs that can be converted at once?
There is no limit on how many PNGs you can upload and convert in one go. You can easily convert dozens, hundreds or even thousands of PNGs simultaneously.
How can I reorder pages in the PDF?
After uploading, simply drag and drop PNG files into your desired sequence. The PDF will follow that order when generated.
What browsers support the PNG to PDF converter?
It's compatible with all modern browsers - Chrome, Firefox, Edge, Safari, Opera, etc. Both desktop and mobile browsers are supported.
Do I need to install any software to use the PNG to PDF converter?
No, the converter is entirely online so you don't need to install anything. Just visit the website and you can start converting immediately.