Organize PDF Pages
Our Organize PDF Pages tool allows you to easily rearrange, delete, and extract pages from a PDF file. It provides a drag-and-drop interface to reorder your PDF pages as needed. Let's use it!

Organize PDF Pages Online
Working with PDF documents is an everyday activity these days. However, a disorganized PDF with pages scattered around might be an issue when you need to find important data. What if you had a quick drag-and-drop interface that allowed you to immediately reorder, rotate, and organize PDF pages?
The SeoTopTools PDF page organizer provides exactly that - a web-based solution for restoring order within your PDFs. This tool can help you prepare papers for printing, reformat an eBook, or combine scanned data.
Daily Search Query Usage Limit for Our Tool is Explained Below:
| | Daily Usage | Single File Size | No of Files Upload at Once |
| --- | --- | --- | --- |
| 👤 - Gust Users: | 10 - 🔎 Search Query | 15 - 💾 MB | 5 - 📁 Files |
| 👋 - Registered Users: | 15 - 🔎 Search Query | 25 - 💾 MB | 10 - 📁 Files |
| 👦 - Basic Premium Users: | 25 - 🔎 Search Query | 156 - 💾 MB | 15 - 📁 Files |
| 👨‍✈️ - Professional Users: | 35 - 🔎 Search Query | 4096 - 💾 MB | 15 - 📁 Files |
| 👮‍♂️ - Agency Users: | 50 - 🔎 Search Query | 4096 - 💾 MB | 15 - 📁 Files |
| 🏢 - Enterprises / Organizations: | 75 - 🔎 Search Query | 4096 - 💾 MB | 15 - 📁 Files |
How to use the Organize PDF Pages tool?
Here are some steps for organizing PDF pages: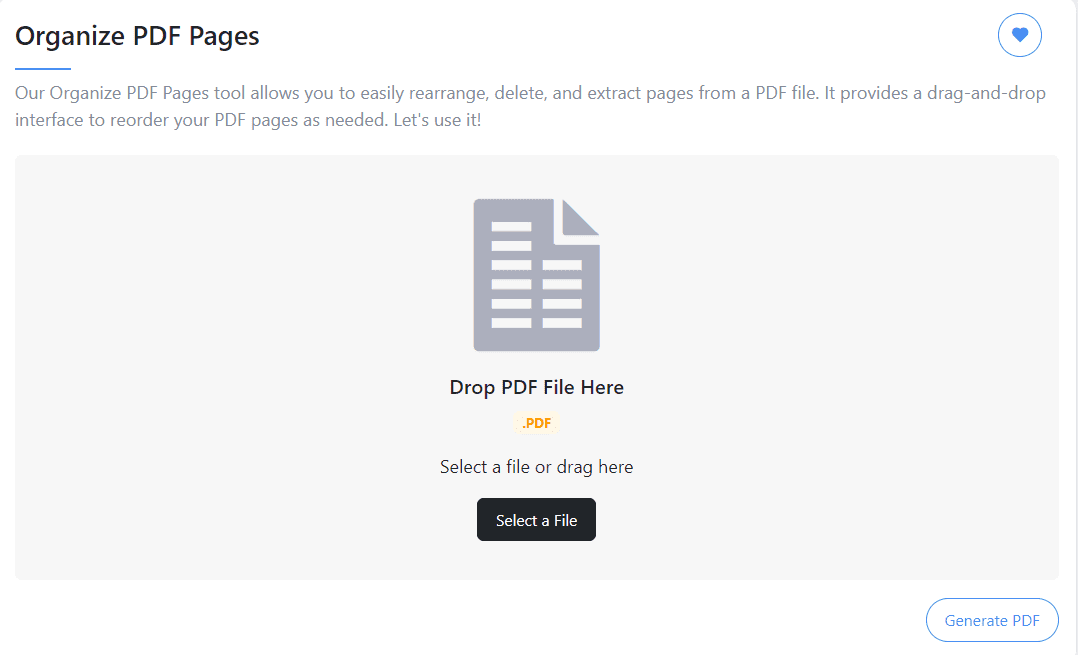 Go to "Organize PDF Pages" Page. You can upload your PDF by selecting a file from your computer or you can simply drag and drop your file.
Once the PDF is uploaded, you will see thumbnail images of each page. Click and drag the pages to rearrange them in the desired order.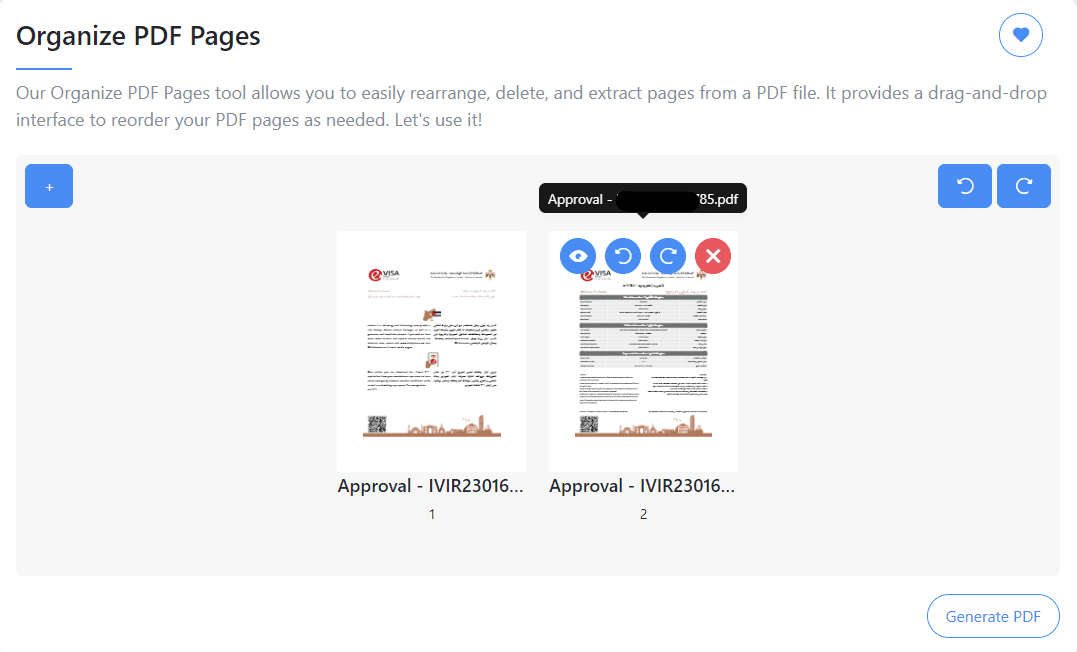 If there are any pages you want to remove, click the trash can icon on the thumbnail of those pages. This will delete them from the document.
Use the rotation arrow buttons on each page thumbnail to rotate them in 90-degree increments as needed.
Double-check the new page order by scrolling through the thumbnails. Zoom in to preview the pages closely.

When the page order is finalized, click the blue "Generate PDF" button. The rearranged PDF will be generated within seconds. Click "Download Arrow" to save the updated version to your computer.
Why Choose The SeoTopTools PDF Page Organizer?
SeoTopTools online tools allow customers to organize PDF pages for free without following any hard and fast rules. It has no limitations and does not demand any conditions at all. The key features of Our free PDF file Organizer are listed below.
- 100% Free
Our PDF organizer Tool is available for free on SeoTopTools. Most robust PDF editing software requires paid plans, giving SeoTopTools a clear advantage.
- No software required
The SeoTopTools PDF page organizer is fully online, requiring no software downloads or installations to start organizing your pages quickly. This makes it more convenient and accessible than options that require desktop apps.
- Unlimited use
With SeoTopTools, you have unlimited use for rearranging, deleting, and rotating PDF pages with no caps on monthly tasks. Other free tools tend to limit how many times you can edit PDFs per month.
- Retains quality
A major benefit of our PDF organizer is that it does not compress or reduce image quality when manipulating your pages. Some tools degrade documents when reordering, but SeoTopTools retains the integrity of your PDFs.
- Rational interface
The rational drag-and-drop interface makes editing pages incredibly easy. You can delete, rotate, and rearrange pages easily with simple clicks, unlike solutions that require more complex procedures.
- 24/7 accessibility
You have 24/7 accessibility to the SeoTopTools PDF organizer from any internet-connected desktop or mobile device. Whenever or wherever you need to wrangle PDF pages, it's ready for you.
Other PDF Tools Provided by SeoTopTools
SeoTopTools offers a variety of other PDF solutions that you may use to increase performance and handle PDF-related tasks. Using the Lock PDF tool, you can use a password to protect private PDF files from unauthorized access. You can also use the other PDF tools on our website,
FAQs
Does reorganizing pages decrease the quality of my PDF?
No, rearranging, deleting, or rotating pages does not reduce image resolution, compress images, or degrade text quality in any way.
Is there a limit to how many pages or PDFs I can organize?
No, there are no limits on the number of pages or individual PDF documents you can rearrange. You can organize hundreds or even thousands of pages across multiple PDFs as needed.
Does SeoTopTools work to organize PDFs on mobile devices?
Yes, our Organize PDF Pages tool works seamlessly in mobile browsers on iOS and Android smartphones and tablets. There is no need to download special apps - just access it through your device's web browser.
Is my uploaded PDF secure on their website?
Yes, SeoTopTools uses 256-bit SSL encryption for all uploaded PDFs and does not store any of your files on its servers. Your documents remain fully secure.