Mozrank Checker Tool
Moz Rank is a popular standard used by SEO professionals and webmasters when improving search engines. You may get an idea of your website's authority and popularity on the Internet with the Mozrank Checker tool.

What Is Mozrank Checker Tool?
It is a tool offered by Seo Top Tools that may assess the Moz rank of a particular website. If you want to measure the authority of a domain or web page, Mozrank Checker is a well-known and reliable tool. Moz developed the "Mozrank" measure to determine how well-optimized a certain website or web page is for search engines. Moz Rank is a popular standard used by SEO professionals and webmasters when improving search engines. A scale of 1 to 10 is used to determine the Mozrank score. The Moz rating system ranges from 1 to 10, 10 representing the highest score. The popularity of the sites linked to a certain web page determines its Moz rating. This also indicates that if the Mozrank of the linked pages is high, the Mozrank of the receiving page of those links is likely to be high as well.
Daily Search Query Usage Limit for Our Tool is Explained Below:
| | Daily Usage |
| --- | --- |
| 👤 - Gust Users: | 10 - 🔎 Search Query |
| 👋 - Registered Users: | 15 - 🔎 Search Query |
| 👦 - Basic Premium Users: | 25 - 🔎 Search Query |
| 👨‍✈️ - Professional Users: | 35 - 🔎 Search Query |
| 👮‍♂️ - Agency Users: | 50 - 🔎 Search Query |
| 🏢 - Enterprises / Organizations: | 75 - 🔎 Search Query |
Key Features of the Mozrank Checker
Get detailed information about any domain you choose to analyze for Moz rating. Additionally, the tool gives users access to important metrics like Page Authority (PA) and Domain Authority (DA) for the home pages of the domains they are ranking.
Recognizing the importance of backlinks in Moz rankings, we've implemented a backlink checker and tracker into our platform. It offers a simple way to check out and monitor the backlinks to your domain.
Our powerful SEO Top Tools SEO software does more than simply track rankings. It delivers a complete SEO assessment that covers both on-page and off-page elements, allows rank tracking, makes site monitoring easier, and has many other great features.
How To Use Seo Top Tools Mozrank Checker?
Here are the steps to use Mozrank checker tool:

You need to enter domain in the box provided.
Click the "Check Moz Rank" button for get the Moz score and other metrics.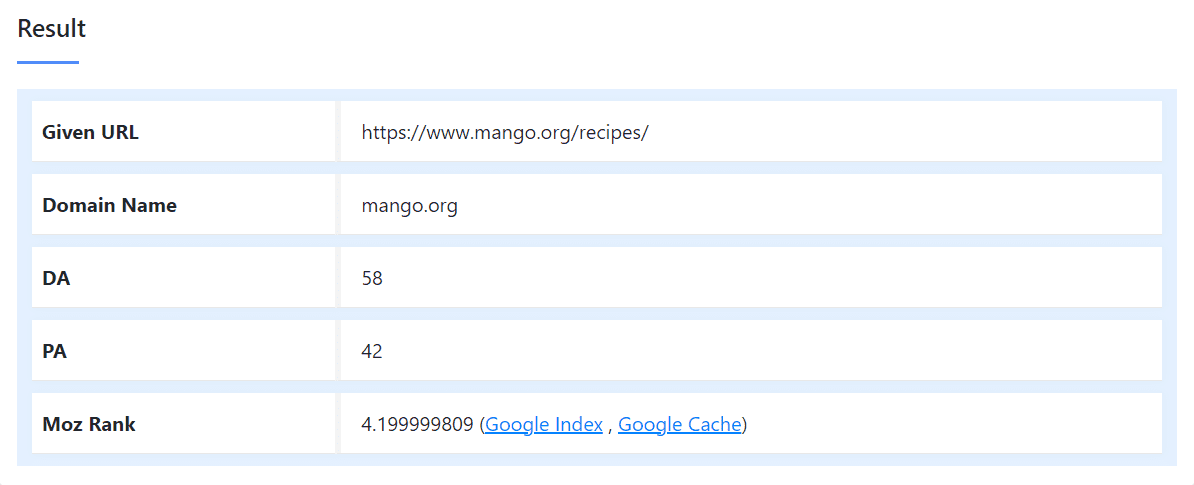 The Moz Score Checker will generate the results and present it to you quickly.
The number of high-quality links pointing visitors to your website determines your Mozrank score. The Mozrank score ranges from 1 to 10, and the greater it is, the better your online positioning.
You may get an idea of your website's authority and popularity on the Internet with the Mozrank Checker tool. It will also examine the quality of links pointing to a particular website. Your Moz rating will improve as more reliable websites connect to yours. The Moz score also highly considers page traffic from the links.
Why is it Important to Check Mozrank?
- Understanding SEO performance:
The Moz rating, an essential SEO component, measures the link profile for your site. You may use it to determine the chances that your website will rank highly in search engine results.
- Track SEO Progress Over Time:
You may use Mozrank as a standard to keep track of the ranking of your pages over time. As you optimize, keep checking on Mozrank to make sure your efforts are paying off with better search visibility.
- Competitor Analysis:
Moz rankings can give you information about their link profiles and SEO techniques, which you can use to create your own. check which of their pages do better than yours to determine which websites and contents you should aim to beat.
- Identify Your Strong Pages:
You may determine which of your website's pages have the most authority and the most potential to rank well in search engines by checking Mozrank. Better Mozrank (7–10) pages are essential for successful optimization.
- Discover Pages That Need Work:
On the other hand, Mozrank may be used to identify poor pages that require SEO adjustments. Pages having a poor Mozrank (1-3) should be prioritized for optimization.
Why is it important to check Link Popularity with Our Mozrank Checker?
SEO experts, website owners, and webmasters must know how search engines like Google rank websites. Our Mozrank Checker offers a special algorithm that rates a website after analyzing its links.
A website has a greater possibility of being ranked higher by a search engine if it has more high-quality links pointing to well-known or authoritative websites. In addition, these search engines will consider additional elements like traffic and the value of these web links.
A specific website would be examined by search engines using various measures. Search engines have not yet made public the criteria they use to rank websites. However, to help our consumers enhance the Moz rating of their websites, we provide them with a reliable Mozrank checker.
How can you Improve your Mozrank Score?
Everyone who owns a website wants to have a high Mozrank. If you want to raise your Moz score, you might think about utilizing a link-building strategy with an authoritative page or domain. Considering that a famous page or website link on your website may boost your search engine ranking.
You must choose well-known websites that are similarly linked to the content of your website and add web links (URLs) to them. Check the Mozrank of the domains first before creating links to them. Avoid link exchanges since search engines like Google have a means of detecting them and might harm rather than assist your website.
It would also improve your website if you could identify blogs where you could leave comments. You should search for blogs that provide material that is relevant to your website.
You may use our Moz Rank checker to see whether these changes have improved your Mozrank after doing these actions.
How Can You Use Social Media In Improving Mozrank Score?
There are so many social media networks available nowadays that you may utilize to raise your Mozrank rating. You may use your domain name to register accounts on popular social media sites like Facebook, Twitter, and Instagram, among others, and share posts there that contain links to your website in order to draw attention to it. This will offer you a solid Mozrank score and help you get more visitors to your website.
Social media is used by millions of users every day. Therefore, this may greatly assist you in increasing your Mozrank. By sharing your posts with others, you may seek the help of your relatives and friends to help your post become viral. By inviting your target market to visit your website in this manner, you will increase traffic.
Make sure your social media posts are interesting and engaging to attract viewers' interest in reading your article and visiting the website link you've supplied. If they enjoy your material, they will likely share it with their friends and family. As a result, the more people read and share your posts, the more traffic your website will receive and the higher your Mozrank score will be.
When is it necessary to use Our Mozrank Checker?
Newly developed websites must use Seo Top Tools Mozrank Checker. It would take some time for newly developed websites to obtain traffic and recognition on the internet. To ensure that search engines see your website as a reliable source of information, just keep adding new web pages filled with useful content.
You can check your score with this Moz checker whenever your website gets consistent traffic. The URL of the website, the domain authority, and the Mozrank score are all given in the report that our free online Mozrank checker generates.
FAQs
What factors determine Mozrank?
Mozrank is calculated based on the number and quality of external links pointing to a domain. More backlinks from authoritative sites equal higher Mozrank. It reflects overall domain authority and trust.
Does a higher Mozrank guarantee better Google rankings?
Not necessarily, as Google rankings are affected by a variety of different on-page and off-page variables, however, Mozrank provides a broad measure of authority to support other SEO data in assessing competition.
How can I improve my Mozrank?
Creating quality content, building backlinks from reputable websites in your niche, optimizing on-page elements, and generating more referral traffic all help boost Mozrank over time.
How often should I check Mozrank for my website?
The frequency of checking Mozrank depends on your SEO strategy and goals. Some webmasters check it regularly to monitor progress, while others may do so less frequently. It's essential to use Mozrank for SEO analysis.