LSI Keyword Generator
Our LSI keyword generator tool pulls search query data directly from Google and allows you to view keyword ideas by lsi keyword suggestions, word count, keyword length, and other metrics. Start your keywords research.

Longtail LSI Keyword Generator Tool
Are you a business owner, content creator, or marketer looking to drive more website traffic, engagement, and conversions? If so, it's important to provide content that matches what your audience is looking for online.
Every Google search contains insights into people's needs and interests. Just imagine how powerfully your business could benefit if you uncovered relevant search trends, analyzed related LSI keywords, and created customized content that serves your customers' desires.
With the right keyword research tool, you can automatically generate thousands of tailored long-tail suggestions based on seed keywords relevant to your industry. This provides massive data to inform your content development and site optimization so you can effectively attract and convert high-intent visitors who want what you offer.
The key is choosing an STT LSI Keyword Generator tool that pulls search query data directly from Google and allows you to view keyword ideas by lsi keyword suggestions, word count, keyword length, and other metrics. With these tailored, data-driven keyword insights, you can create content, campaigns, and website optimizations that speak directly to the searcher intent behind relevant queries in your niche. The result is content that converts by targeting real searcher needs and ranking for valuable keywords.
Daily Search Query Usage Limit for Our Tool is Explained Below:
| | Daily Usage |
| --- | --- |
| 👤 - Gust Users: | 10 - 🔎 Search Query |
| 👋 - Registered Users: | 15 - 🔎 Search Query |
| 👦 - Basic Premium Users: | 25 - 🔎 Search Query |
| 👨‍✈️ - Professional Users: | 35 - 🔎 Search Query |
| 👮‍♂️ - Agency Users: | 50 - 🔎 Search Query |
| 🏢 - Enterprises / Organizations: | 75 - 🔎 Search Query |
Importance of Using Keywords
Keywords are a primary building component for effective SEO and content marketing. To rank well and drive traffic, brands must identify and strategically target keywords related to their business offerings. But more than simply using head term keywords is required. The key is finding relevant long-tail keyword variations that searchers are using.
Once core keywords are identified, SEOs must expand their research to uncover "related keywords" - similar ideas that branch out specifically from the key phrases. These associated keywords provide a full understanding of a concept's purpose of search. Even though head phrases could face strong competition, focusing on their associated long-tail variants might open up easier options for ranking.
The goal is to naturally include keywords in website text without over-optimizing. Sites using forced keywords or high advertising get punished by search engines. Therefore, the keywords must be honestly included to provide value.
With these insights, SEOs can develop complete keyword lists for content teams to build out topics that map to searcher intent. This wins with search engines and users - driving organic visibility through relevance. But keywords must be supplemented by truly engaging, high-quality content. Together, these are the ingredients for content that converts and ranks.
What are Keyword Phrases?
Keyword phrases combine two or more words, such as "content marketing tips" or "social media analytics software." These longer phrases better capture the people.
Search engines like Google look at keywords in collaboration. They also analyze how keyword phrases are used to understand relevancy and searcher intent. So, targeting the correct words is key for visibility.
The popularity of keywords and phrases can vary significantly based on search volume. For example, the broad term "software" may get more searched than the longer phrase "customer relationship management software." But that longer phrase better indicates that the searcher wants specifically CRM-related software.
The key is researching to find high-potential keyword phrases relevant to your business - those that get decent search volume and traffic opportunities. Optimizing content for those valuable long-tail phrases and core keywords is vital for search, traffic, and conversions.
How to use Keywords on your website?
Simply overusing keywords in your content is not an effective strategy. Don't try to game the system with sneaky techniques. Your content copy needs to be high-quality and compelling for real human readers first. Follow best practices for natural keyword usage. Each page should focus on a unique primary keyword, organically incorporated into headlines and body content. Titles must be clear, and descriptions attractive to visitors. Unclear, excessive keyword use can potentially penalize your site - different from what you want. Well-written posts may naturally need keywords initially. In that case, seamlessly work relevant terms into existing copy without losing authenticity. Intelligent keyword optimization helps search ranking, but engaging copy earns attention and loyalty.
Be thoughtful and strategic when choosing which keywords to focus on for your website. It's all about finding the right balance that avoids sounding spammy. This comes back to the core rule of creating high-quality, valuable content that engages visitors. You may have excellent written posts or pages that need keywords naturally. In those cases, seamlessly work relevant keywords into the existing copy without compromising quality and readability. Use keyword research to identify terms that make sense to incorporate. The goal is to optimize content with keywords while maintaining authenticity and appeal for readers.
Great content attracts readers even without keywords. If needed, carefully add relevant keywords to the existing copy. This improves search optimization without losing quality.
Keywords are essential for search ranking. But readability matters more. Write helpful content with keywords; search engines and visitors will like your site.
How to use STTs LSI Keyword Generator?
When choosing keywords to optimize your website content, it's important not just to repeat the exact words repeatedly. Doing this can get your site spammy over-optimization. You don't want that. Instead, incorporate related lsi keywords and phrases naturally throughout your content. Use synonyms and other topically relevant words. This shows search engines you're using your target keywords naturally. The goal is to craft content that flows well while focusing on your core terms.
Here are steps to use a related longtail keyword finder:

Enter your target keyword into the input field or you can multi keywords like mango recipes, apple recipes, orange recipes.
Click the "Research Keyword" button.
The tool will generate a list of related lsi keywords based on your details.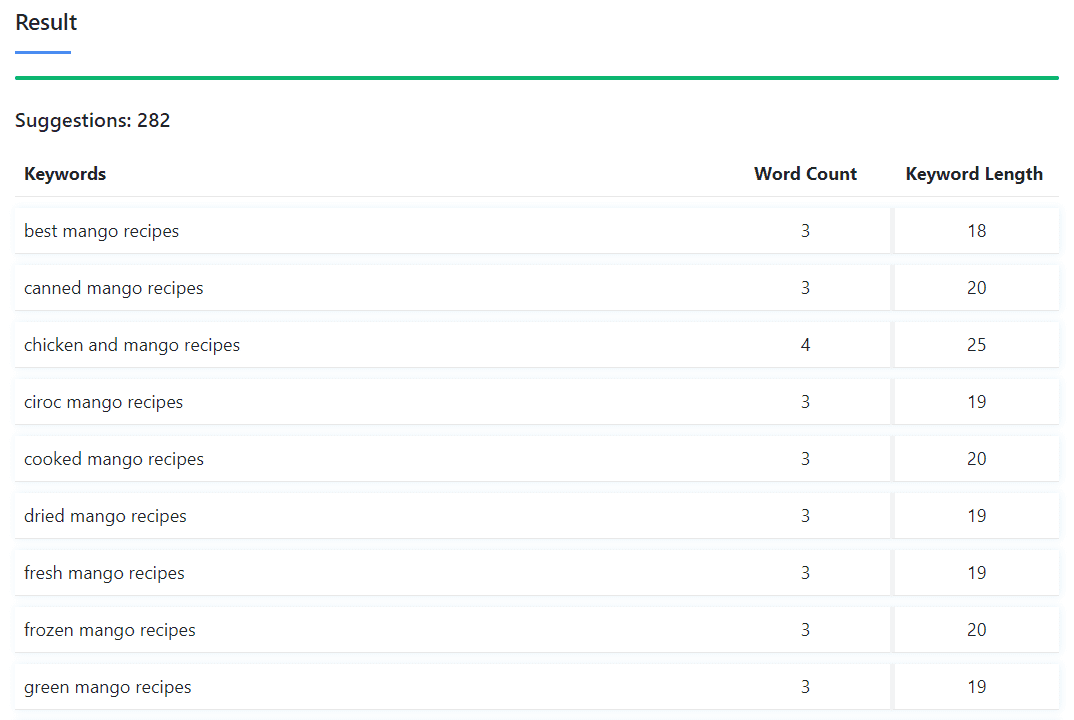 Export the list of keywords by copy and paste them directly into a document where you want to store them for later use.
You now have a list of related longtail keywords to help expand your content optimization.
Features of STTs LSI Keywords Finder
It allows you to enter a seed keyword or phrase and generates a list of related keywords and phrases for which people may also search. This helps you expand your list of potential keywords to target.
It pulls related longtail keywords from Google's keyword suggestion API, so the recommendations are based on what people search for on Google.
You can filter the keyword results by location, language, device type, search volume, competition, etc. This lets you refine the list to keywords that make the most sense for your needs.
It provides search volume data (monthly searches) for each suggested keyword so you can prioritize higher-volume keywords that may drive more traffic.
It's free to use with no signup required, so it's easy to test out and use occasionally or regularly.
LSI Keyword Tool For SEO And Content Creation
If you want your website to draw traffic from search engines like Google, the content needs to be optimized around the right keywords. This means using terms your target audience is already searching for similar content, products, or services online.
The best way to find these effective keywords, as proven by thousands of successful websites and online businesses, is to start with Google's search suggestions.
Creating content focused on popular keywords that people use in their searches provides tremendous value to your website visitors. In turn, Google will reward your site with better rankings, increasing traffic.
By building your content around the key search terms your audience is actively looking for, you set your website up for search engine success. Start with insights from Google to see the phrases people want answers for, then work those organically into your copy. Not only will search engines take notice, but you'll provide the solutions searchers wish to. It's a win-win for traffic and conversions.
LSI Keyword Tool For Advertising
When running pay-per-click (PPC) ads targeted to keywords users search on Google, choosing the correct terms is essential. The relevant keywords you focus your campaigns on will attract qualified traffic to your site. Displaying your ads to searches containing applicable keywords leads to higher click-through rates, lower cost-per-clicks, and increased conversions. This means you'll spend less on advertising while driving better return on investment. It pays to carefully select keywords that indicate user intent to find your products or services. Targeting searches highly relevant to your business captures motivated visitors ready to take action. Optimize for precision, not volume, with your PPC keywords. Ads matching high-intent searches bring customers who convert, lowering acquisition costs. Keywords show you who wants what you offer - choose them wisely.
FAQs
Why is finding related LSI keywords necessary?
Related longtail keywords enhance your content's context and relevance. Integrating these keywords can improve your content's visibility in search engine results and attract more organic traffic.
Is the tool suitable for beginners in SEO?
Yes, the tool is designed with a user-friendly interface, making it accessible to beginners and experienced SEO professionals. Video tutorials and resources are also available to guide you through its features.
Is there customer support available?
Yes, the tool provides responsive customer support to assist with any queries or challenges you may encounter during your usage.
Can I analyze the performance of generated keywords over time?
Yes, the tool may offer features to track the performance of selected keywords, allowing you to adjust your strategies based on real-world data.