Keywords Rich Domains Finder
Our Keywords Rich Domains Suggestion Tool assists in creating a domain name with defined keywords, which increases your domain's exposure and causes it to rank first in search engine results. Find your perfect domain today!

Keywords Rich Domains Suggestion Tool
Have you ever tried to quickly create a strong domain name that is keyword-rich? For the best, highest-quality domain ideas, Seo Top Tools has developed a powerful keywords rich domain name generator. More than 100 keyword-rich domain names can be suggested by our completely free online domain suggestion analyzer.
Our great Keyword Rich Domain Suggestion Tool assists in creating a domain name with defined keywords, which increases your domain's exposure and causes it to rank first in search engine results. Every single website hosted on the internet has its unique domain name. Internet users may only distinguish a certain website by using this.
You may locate domains containing the keywords of your choice by using the Keyword Rich Domain Finder tool on Seo Top Tools. Domain names with a lot of keywords in them are called keyword-rich domains. A website's kind may sometimes be determined by the keywords used in the domain. In Search Engine Optimization (SEO), you frequently want to look for websites or domain names similar to yours to do market research or find business partners.
Daily Search Query Usage Limit for Our Tool is Explained Below:
| | Daily Usage |
| --- | --- |
| 👤 - Gust Users: | 10 - 🔎 Search Query |
| 👋 - Registered Users: | 15 - 🔎 Search Query |
| 👦 - Basic Premium Users: | 25 - 🔎 Search Query |
| 👨‍✈️ - Professional Users: | 35 - 🔎 Search Query |
| 👮‍♂️ - Agency Users: | 50 - 🔎 Search Query |
| 🏢 - Enterprises / Organizations: | 75 - 🔎 Search Query |
When using the tool that suggests keywords for this domain, the following are the essential considerations:
The ability to adapt to the webpage
The brand's name and its features
Brand posture or level
It must be simple to remember
Additional extensions
Do not use hyphens
Always add a term important to your website or the products or services your company offers. Our SeoTopTools Keywords Rich Domains Finder Tool is 100% free with unlimited searches.
Do Domain Keywords Affect SERPs?
When determining how to rank a website in search results, search engines examine various factors. Although specific keywords in a domain name often won't significantly influence search engine results, they provide search bots additional context about the website's subject. Several websites achieve high rankings for the given keywords without using them in the domain name. This is not an essential factor in the actual search engine rankings.
Why Look For Keyword Rich Domains?
Here are some potential benefits of keyword-rich domains that make you search for them:
Provides immediate context to search engines about the topic focus, which can give a slight relevance boost in rankings, especially for newer sites.
Ranking quickly for brand name searches can be easier since the domain matches the keyword.
Domains containing high commercial intent keywords tend to attract more traffic from users typing keywords into the address bar.
Keyword domains are typically cheaper to register if they are more generic, still available terms.
Easy to remember and spell, which can aid return visits and word-of-mouth marketing.
Promotes branding since the domain name points out what the company or site is about.
How to use SeoTopTools Keyword Rich Domain tool?
Here are the steps to use our tool: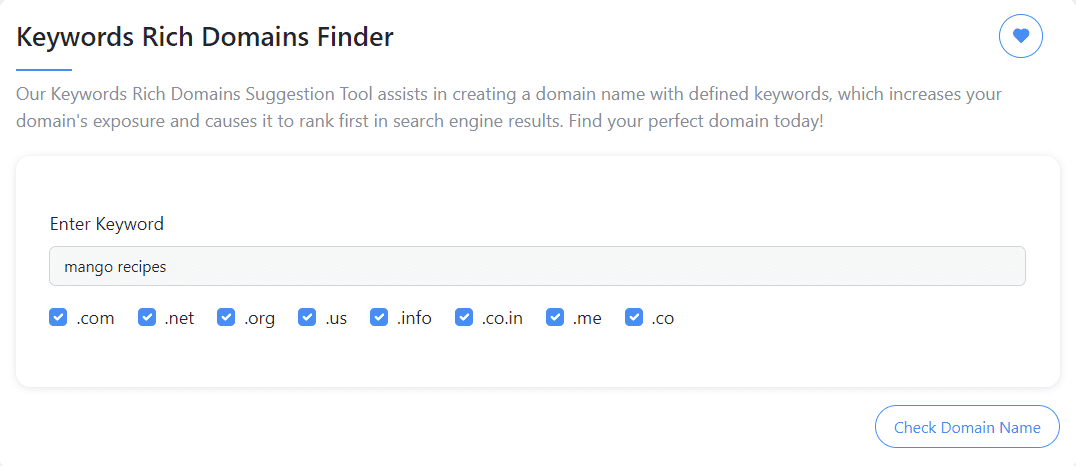 Step 1: Enter your target keyword or phrase describing your website or brand topic into the tool's search bar. This is the main focus of your domain name.
Step 2:Now select the one option from these extensions .com, .net, .org, .us, .info, .co.in, .me, .co
Step 3: Click the "Check Domain Name" button to submit your keyword. This will trigger the tool to generate available domain name suggestions.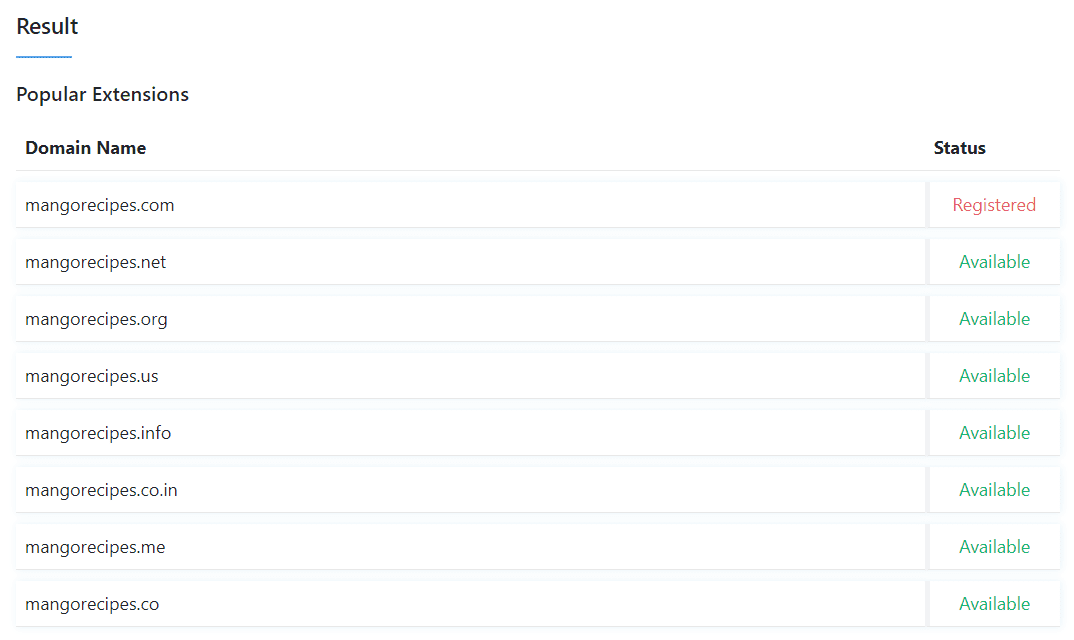 Step 4: Review the list of suggested keyword-rich domains the tool provides. The results will contain your keywords worked into potential domain options.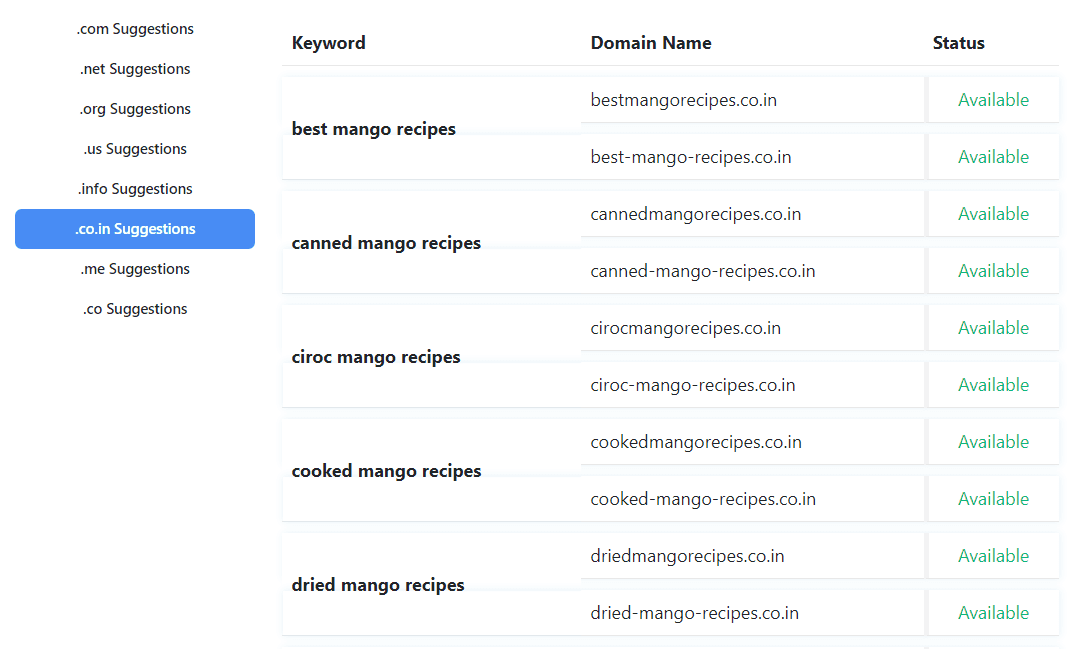 Step 5:The report will also tell you if the domain name is still available or not.
At Seo Top Tools, we aim to offer our users free access to reliable, quick, and simple online tools. With the significance of keywords in search engine optimization, users who wish to have a suitable domain name for their website that is also rich in keywords will find this Keywords Rich Domains Suggestions tool to be of great help.
Is Using The Keyword Rich Domains A Good SEO Strategy?
What are the practical SEO advantages of having a domain with relevant, high-volume keywords? Is it an effective long-term positioning technique or a temporary search engine flaw?
Having a keyword in your domain can significantly reduce the time it takes to rank for a group of relevant keywords, according to search engines. Less content, fewer links, and less advertising time are required for keyword-rich domains. Finding an exact match domain, such as "abc.com," is challenging because many are highly costly or unavailable.
Use our Keywords Rich Domains Generator Tool to find the perfect domain name:
A new website's setup is a complex procedure. There are various factors to consider, especially in the early stages of development. The ideal domain name for a website should be one of the first things visitors search for.
The best way to pick the ideal domain name for your website is to use our Keywords Rich Domains Finder Tool from Seo Top Tools. Based on the keywords you have provided, a list of domain names will be generated. The keyword density of each domain name on the list will give you a significant advantage over many of your competitors.
People who want to start a new website can utilize keywords, or if they already have a well-established brand name, such as in restaurant chains or health and beauty items, they can use the brand name effectively. You may still utilize your brand name in your domain name even if it is not well-known globally since this will help your brand gain a reputation.
How to get an ideal domain name?
It is essential to choose the correct name for your business and your domain name if you are just starting to build a new internet business. Because if someone wants anything from your website, they will search for it by name. If the name is related to what you are providing, whether it be in the form of goods or services, your target audience will find it easier to remember it.
In the past, It was only possible to use domain names with extensions.com or.org, and the well-known names were quickly grabbed by numerous website owners, making it challenging to locate a decent domain name. But not anymore, as you can now simply and rapidly pick up many keyword-rich domain name choices for your website with this free online domain suggestions tool.
The number of domain name extensions has grown to provide new website owners with more choices due to the current high demand for domain names. The most common domain name extensions at the moment include .com, .net, .org, .us, .info, .me, and .co to mention a few. In addition, domain name extensions start in country codes like .co.in are also available. It provided many options for choosing the ideal domain names most effectively represent your company and the area.
SeoTopTools offers a great keyword-rich domain ideas tool to help those trying to select the ideal domain name for their online business. It is really quick, simple, and cost-free to use. Based on your search parameters, it will present you with a list of suggested domain names that are keyword-rich.
FAQs
Does using keyword domains help with SEO?
While not a major ranking factor, domain names containing relevant keywords can provide a bit of an SEO boost by helping search engines better understand the topic focus. But compelling on-page content is much more important for driving rankings.
How do I incorporate keywords naturally?
Don't over-optimize or cram multiple keywords into a domain. Focus on 1-2 core terms that flow well with your brand name. For example, LocalFoodRecipes.com reads naturally while incorporating the keywords.
Should I just focus on .com domains?
Not necessarily - sometimes domain extensions like.net, .org, or even .com can provide more keyword-rich options. Just be sure to check availability for any domain before purchase. The tool makes this easy.
Does it integrate with domain registrars?
Unfortunately, the tool doesn't directly integrate with domain registrars yet. But it's still extremely useful for idea generation. Once you've found your domain, simply register it through your preferred registrar.