Keyword Position Checker
Our keyword position checker tool allows you to track your keyword positions to measure the impact of your optimization efforts and see how you stack up against competitors.
What is a Keyword Position?
A keyword position is where a website ranks in search engine results pages (SERPs) for a particular keyword or search query. Specifically, it indicates the order or rank number that a web page appears when someone searches for a specific term on Google or other search engines.
Getting a top keyword position like #1, 2, or 3 is good. This means your website shows up high when people search for that keyword. If your website has a top position for important keywords, it will get more visitors from Google.
Checking your keyword positions is helpful for SEO. It tells you how well your website ranks for important keywords. You can improve your SEO if you have a low keyword rank. This will help get your website higher in the results. Then you can get more traffic from Google! To Know about keyword position and improve SEO, Try our Keyword Position tool.
High keyword rankings, especially in the coveted top 3 positions, lead to increased organic traffic, clicks, and business conversions. That's why monitoring keyword positions and working to improve them is so instrumental for SEO success.
Daily Search Query Usage Limit for Our Tool is Explained Below:
| | Daily Usage |
| --- | --- |
| 👤 - Gust Users: | 10 - 🔎 Search Query |
| 👋 - Registered Users: | 15 - 🔎 Search Query |
| 👦 - Basic Premium Users: | 25 - 🔎 Search Query |
| 👨‍✈️ - Professional Users: | 35 - 🔎 Search Query |
| 👮‍♂️ - Agency Users: | 50 - 🔎 Search Query |
| 🏢 - Enterprises / Organizations: | 75 - 🔎 Search Query |
How Does SeoTopTools Google Keyword Position Checker Work?
Seotoptools Keyword position tool is also known as a keyword rank checker.
Here is a simple step-by-step of how it works:
You enter a keyword like you want to check rankings.
You enter the website URL you want to check, like yoursite.com.
The keyword rank checker looks at the Google search results for your keyword and finds where yoursite.com appears.
It reports back the keyword position or rank. For example, if your site is the #5 result for your keyword, it will show the position as number.
Being in positions 1, 2, or 3 is excellent because those get the most clicks from Google. Lower positions like #15 or below could be better. The rank checker tool lets you check rankings for any keywords related to your website. You can also enter competitor websites to see where they rank compared to you.
Checking keyword ranks helps you:
See which keywords your website ranks well or poorly for.
Check if your SEO work is improving your Google positions over time.
Compare your rankings versus competitors to see who ranks higher.
Find new keyword opportunities to target with your content.
By providing keyword ranking data, the rank checker gives critical insights for improving SEO. It's an essential free tool for any website owner.
Monitoring your keyword positions regularly with a rank checker is the best way to keep improving your Google rankings and traffic!
How To Use Google Keyword Position Checker?
Our Google rank checker tool is designed to be easy for anyone. You don't need special training or skills to check keyword rankings with our tool. We carefully developed it so all users can operate the google website rank checker smoothly without difficulties. The interface is intuitive and straightforward.
To help our tool, here are the steps you need to follow: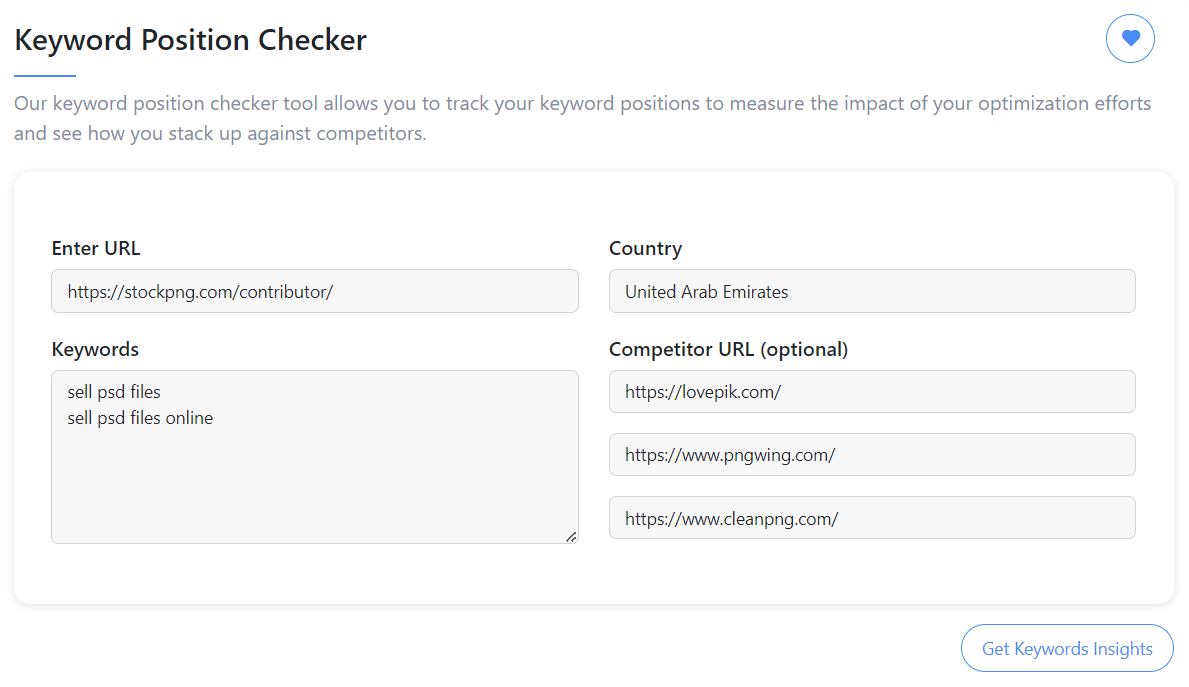 Go to the SeoTopTools Google Keyword Position Checker page.
In the "Enter URL" box, enter the website URL for which you want to check rankings. This can be your site or a competitor's site.
Select which Google country site you want to check rankings in. For example, Google.com for the US, Google.co.uk for the UK, etc.
Enter the keywords you want to check rankings for, one on each line, into the "Your Keywords" box. You can enter up to 20 keywords per check.
Once you've added a domain and keywords, click the "Get Keywords Insight" button.
The tool will automatically check the latest Google results for your keywords. Within seconds, it will display the ranking position for each keyword you entered. Review the keyword position results to see which terms your site ranks well or poorly for. This data helps inform your SEO strategy and where to focus optimization efforts.
Checking regularly over time shows ranking progress. Compared to competitors, it highlights gaps. SeoTopTools makes keyword tracking easy and fast.
Reasons To Use Our Google Keyword Rank Checker
- Instant Results
You'll obtain precise keyword ranking results within 5 seconds of entering your domain and keywords. Our highly optimized algorithm crawls Google results at remarkable speeds. This enables checking more data in less time compared to slow, lagging competitors.
- Accurate Outcomes
Every ranking result from our checker can be fully trusted to match Google's live SERP data. We meticulously developed and tested our crawling system to eliminate discrepancies. This accuracy ensures the data that guides your SEO efforts is entirely reliable.
- All-in-One Keyword Insights
Looking beyond mere rankings, our tool equips you with supplemental keyword metrics like search volume estimates, difficulty scores, and historical trends. This 360-degree data provides a deeper context to understand the competitive landscape and opportunities better.
- Location-Based Rankings
See keyword positions tailored to different countries and languages by selecting the right Google domain for each check. Our tool lets you customize data by critical markets.
- Compare with Competitors' websites.
By enabling comparison against accurate competitor data, the keyword position checker provides more robust insights to make strategic optimization decisions. Adding rival sites provides essential context beyond checking just your website in isolation.
What Are Keyword Rankings Or Google Ranks?
Google search ranking and keyword ranks are related, and understanding this relationship requires a basic understanding of what keywords are. Search queries or keywords are the terms users submit to search engines to get the desired outcomes.
Assessing the words a searcher can type if you run a website could be crucial. After analysis, changing the number of times a term appears in the content of your website might provide you an advantage and raise your SERP ranking. Then, check your rankings using our Google ranking checker.
Effective SEO Techniques:
As the only key to online success, it is crucial to implement SEO methods on your website.
To successfully rank highly in search engines, it is essential to implement SEO methods on your website. Determining how highly a keyword ranks on Google is crucial because keywords are a significant component of SEO strategies.
It is imperative to use a keyword or SEO ranking checker to monitor keyword performance and make necessary adjustments to your webpage for higher Google rankings. You can consider several approaches to investigate keyword rankings. Although doing this can be demanding and time-consuming, SearchEngineReports.net is here to help. To find out any keyword's actual search engine rating, utilize the Keyword Rank Checker on our website.
Tips To Increase Your Site Keyword Positions
Google's search algorithm evolves constantly, so remaining complacent can cause your keyword rankings to slip. Don't wait for positions to decline - take proactive steps using these best practices to climb higher in the SERPs:
- Focus on user experience.
User experience signals like engagement and bounce rate are top-ranking factors today. Ensure your content provides tangible value that keeps visitors engaged. Improve page speed, navigation, mobile-friendliness, and other UX elements. SEO success is now intertwined with pleasing users.
- Increase Website Speed
Faster-loading pages tend to outperform slower ones in rankings. Improve technical site speed by enabling caching, compressing images, optimizing code, upgrading hosting, and more. Check page speed insights regularly and set goals for improvements. Every bit of speed gain can incrementally boost positions.
- Craft Compelling Title Tags
Optimized title tags boost click-through rates crucial for rankings. Make titles attention-grabbing and descriptive using emotional keywords and compelling phrasing. Keep titles under 60 characters and incorporate target keywords. Use tools to analyze title tags across your site and identify gaps.
- Promote Quality Backlinks
Earning backlinks from relevant high-authority sites remains a proven way to enhance keyword positions. Build a diversified backlink profile combining earned media mentions, strategic partnerships, contributor content, and other ethical tactics. Monitor new links with rank-tracking tools to identify positive correlations.
- Refresh and Expand the Content
New pages and posts on untapped topics provide opportunities to rank for more keywords. Identify related keywords competitors rank well for, but you still need to target. Refreshing existing content also helps, ensuring information stays up to date. More content volume and authority also lift all pages.
By continually improving user experience, site performance, content, and backlink expansion, you steadily position your website to climb the keyword rankings ladder. Check positions regularly to validate your efforts.
FAQs
What kinds of insights can the Seotoptools Keyword Position tool provide?
A: This tool goes beyond just showing your current ranking positions. It also provides useful data like identifying high-opportunity keywords you could target to improve rankings, comparing your posts vs. competitors, analyzing ranking trends over time, and discovering untapped keyword gaps.
What are some intelligent ways I can use this tool for my SEO?
Regularly check your core keywords to monitor ranking progress over time. Compare against top competitors to find gaps. Identify any keywords you rank #11-20 for that have the opportunity to break into the top 10. Use it to research what blog topics competitors rank well for.
What support options are available if I have issues?
Seotoptools offers 24/7 email support and extensive self-help options like FAQs and tutorials to assist with any questions on using the tool.
What factors into my keyword rankings?
Google uses hundreds of ranking factors, but some core elements are your page's relevance, authority, backlinks, optimizations, speed, and user engagement metrics. Improving all of these can positively influence keyword positions.
How often should I be checking my keyword rankings?
It's ideal to check your core keywords on an ongoing monthly cadence. More frequent checks, like weekly, are OK for tracking new content or monitoring volatility. Just avoid redundant checks that provide minimal additional value.