JPG To PDF Converter
Our online JPG to PDF converter is a free web tool created to help you quickly and easily convert images to pdf files. The tool is designed to intelligently convert your image into a portable document format while maintaining the quality of your image.

Convert JPG To PDF Online
JPG is one of the most widely used image formats and is frequently used for online and offline usage of digital photos. However, the JPG format lacks many of the features that make dealing with documents much simpler in the PDF (Portable Document Format). These advantageous features may be accessed by converting your JPG files to PDF format.
Manual conversion, however, may be difficult and time-consuming. The JPG to PDF converter tool from SeoTopTools works in this situation. It offers quick bulk conversion of many JPG photos into PDF files while maintaining the original quality.
Daily Search Query Usage Limit for Our Tool is Explained Below:
| | Daily Usage | Single File Size | No of Files Upload at Once |
| --- | --- | --- | --- |
| 👤 - Gust Users: | 10 - 🔎 Search Query | 15 - 💾 MB | 5 - 📁 Files |
| 👋 - Registered Users: | 15 - 🔎 Search Query | 25 - 💾 MB | 10 - 📁 Files |
| 👦 - Basic Premium Users: | 25 - 🔎 Search Query | 156 - 💾 MB | 15 - 📁 Files |
| 👨‍✈️ - Professional Users: | 35 - 🔎 Search Query | 4096 - 💾 MB | 15 - 📁 Files |
| 👮‍♂️ - Agency Users: | 50 - 🔎 Search Query | 4096 - 💾 MB | 15 - 📁 Files |
| 🏢 - Enterprises / Organizations: | 75 - 🔎 Search Query | 4096 - 💾 MB | 15 - 📁 Files |
How To Convert JPG to PDF?
You may trust us when we state that this is the web's "easiest to use" jpg to pdf converter. To convert follow these easy steps: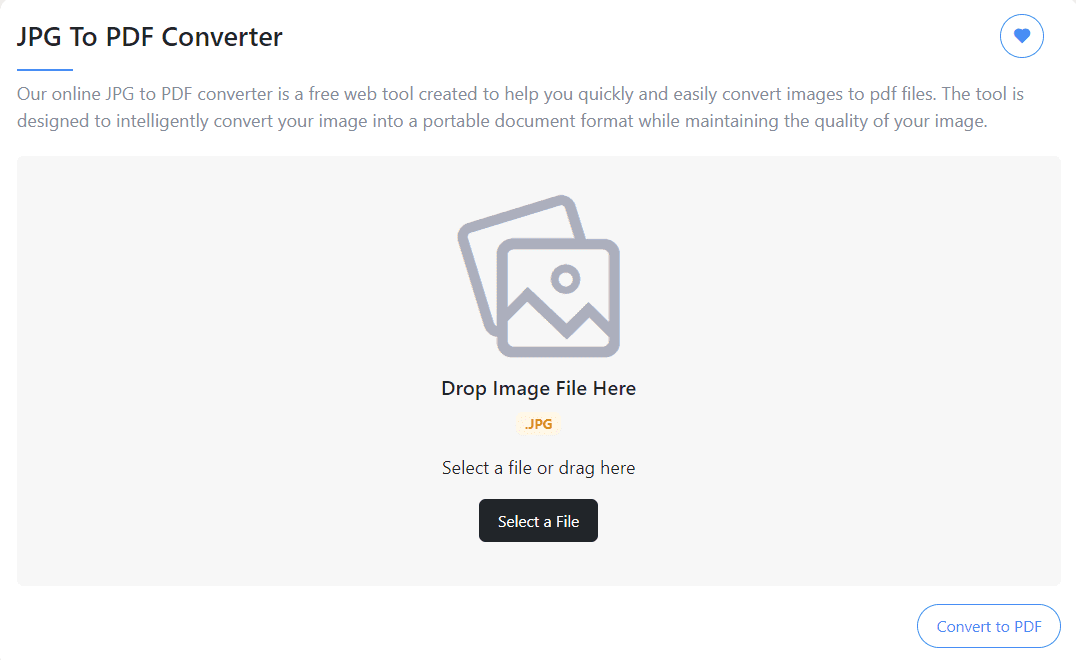 Go To JPG to PDF Converter Page.
Click "Select a File" to add your JPG files. You can upload multiple jpg files at once.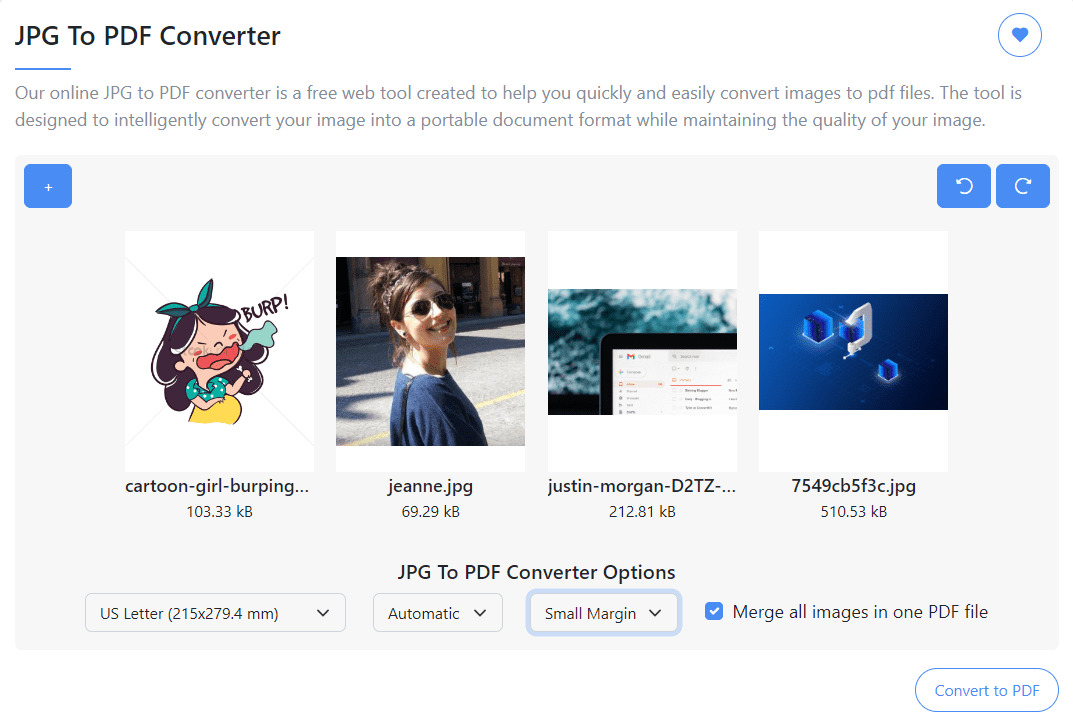 Set some settings accroding to your needs and Simply click "Convert to PDF" and wait for the magic to unfold.

Within a few seconds, the tool will complete the conversion and deliver the converted pdf file for download.
Convert JPG To PDF Using SeoTopTools
This online JPG to PDF converter by SeoTopTools is a free web tool created to help you quickly and easily convert images to PDF files. The tool is designed to intelligently convert your image into a portable document format while maintaining the quality of your image.
This tool was created by a team of expert developers and skilled digital photographers, and it takes into consideration the most recent and effective techniques for digital imaging.
Features of Image to PDF Converter
This online image to PDF converter is specifically designed to offer the best results in the shortest amount of time possible by automatically creating PDFs from photos while retaining the original resolution. Let's look at some additional features and advantages of this great tool:
- No Need Installation
Since the JPEG to PDF conversion happens in the cloud, your CPU won't be affected in any way. Even installing it on your PC is not necessary. Just a strong internet connection is required to convert JPG files to PDF.
- Functions Independently
This tool functions independently to convert JPG to PDF and supports all platforms including Mac, Windows, Linux, and even mobile. You don't need to worry about how to convert JPG to PDF on Windows 7 or Mac anymore; just visit our tool and let it take care of the rest.
- Without Watermark
Even though we provide a free tool to convert photos to PDF, we don't add annoying watermarks to your document. This free tool is actually better than the majority of other JPEG to PDF converters available today.
- Conversion simplicity
This tool immediately converts JPG files to PDF files with a user-friendly interface. You don't need to be an expert in digital image technology. You can merge photos to PDF with the aid of the above-mentioned easy procedures.
- All time available
Because our tool is online, you may access it at any time and from any location to convert JPG to PDF. Use it anytime you wish; there are no time or other restrictions.
- No Registration Required
Unlike many other JPG to PDF converters., you do not need to register on our website in order to use our tool. Everything happens within your preferred browser. There's no need to set up
any extra software.
- Rapid conversion
Using modern algorithms and the expertise of our programmers, this wonderful utility quickly converts JPG files to PDF. Therefore, converting your images to PDF just takes a few seconds.
- Top-quality PDF
Your converted PDF maintains the JPG's quality and has all the features of a true professional PDF file. Even so, you may still modify that file using our other PDF editing tools, like Merge PDF, Compress PDF, and many more.
- Exceptional Security
No one can spy since HTTPS is used to transfer your photographs. Our servers immediately delete your data when you convert JPG to PDF online.
- Unlimited Usage
Use as many files as you like; there is no use limit. Our only consideration is for your time. There is no use limit on the JPG to PDF online tool Simply go to the tool page, upload your photographs for conversion from JPG to PDF, and immediately receive the resultant product..
- Data Security
We handle your data and files with the highest reliability. We promise that your privacy is protected and never stepped upon while developing this picture into a PDF converter.
Your JPG and PDF files are inaccessible to anybody and, as soon as the conversion is complete, they are instantly permanently deleted from our systems.
Why is it necessary to convert images to PDF?
On the internet, everyone participates in the activity of storing and sharing. JPG is one of the most widely used formats for saving and distributing photos, however, there are others. Despite its widespread use, JPG may have significant limitations at times depending on the circumstances.
For instance, you may want to email the same individual many JPG files or merge photographs into one PDF. To save time and space, it would be preferable to combine all the JPG photographs into a single document rather than sending them in individual files.
How would you fix this? You need a more adaptable and universal format. And that's when converting your JPG files to Portable Document Format (PDF) becomes important. Introducing our Free JPG to PDF Converter.
The ability to combine several images into a single PDF file is another important factor. The amount of data and storage space needed to keep or send your documents will be greatly decreased by using our online JPG to PDF converter and merger. Here's how to quickly convert a image to a PDF file.
In addition, PDF files can be password-protected. This is a good way to safeguard confidential or legally protected information. Try Password Protect Lock PDF, another helpful product we provide. A PDF file may even be set up such that you may just see it, never edit it. You may not even be able to download them from the internet in some circumstances.
These are the reasons why you should convert your JPG files to Portable Document Format (PDF).
FAQs
Does converting JPG to PDF reduce image quality?
No, your images maintain full quality and integrity. However, very highly compressed JPGs may show artifacts. Use high-quality sources.
Can I convert JPGs to PDFs on mobile?
Absolutely! SeoTopTools works seamlessly on smartphones and tablets for on-the-go JPG to PDF conversion.
What is the benefit of combining JPGs into one PDF?
A single PDF is much easier to organize, share, view, and manage than hundreds of separate image files. PDFs also compress better which saves space.
What is the maximum number of JPGs I can convert at once?
You can batch convert unlimited JPGs to PDF in one process every time, rather than one by one. This saves time!
Can I use the JPG to PDF converter on a mobile phone or tablet?
Yes, the tool works smoothly on both desktop and mobile devices. You simply access it through your device's web browser - there is no software download required. This makes it easy to convert JPGs to PDFs on the go.
Does the order of my JPG images remain the same in the converted PDF?
Yes, SeoTopTools converts the JPGs into PDFs while retaining the exact same page order you uploaded them. You can easily rearrange pages as needed both before and after conversion.