Google SERP Checker
Our Google SERP checker tool allows users to see where a particular URL ranks for target keywords. They provide valuable data to monitor and improve SEO strategy.

What is SeoTopTools Google SERP Rank Checker?
Our Google SERP rank checker tool allows users to check a website's rankings for target keywords in Google search engines. Seo SERP checkers will show the current ranking position by entering a keyword or phrase.
The order of links on the SERP depends on what the search engine's algorithms think are the most relevant and valuable results for your search. Sites and pages that pay to promote their content may also appear at the top. The higher up on the page, the more influential the search engine considers that result. As you scroll down, the links become less and less relevant
Daily Search Query Usage Limit for Our Tool is Explained Below:
| | Daily Usage |
| --- | --- |
| 👤 - Gust Users: | 10 - 🔎 Search Query |
| 👋 - Registered Users: | 15 - 🔎 Search Query |
| 👦 - Basic Premium Users: | 25 - 🔎 Search Query |
| 👨‍✈️ - Professional Users: | 35 - 🔎 Search Query |
| 👮‍♂️ - Agency Users: | 50 - 🔎 Search Query |
| 🏢 - Enterprises / Organizations: | 75 - 🔎 Search Query |
Though different search engines have their secret formulas, SERPs tend to have similar features, like:
Titles and URLs for each result
Short descriptions summarizing the page
Images related to the search term
Suggested questions others asked
Paid ads
The results you see are customized based on your location, past searches, browser history, and other data. So your friend might get different results for the exact search.
Google, Microsoft, and others constantly adapt their algorithms to improve results and analyze new web content. They also provide tools like Google Analytics to help webmasters track traffic, collect user data, and find ways to improve their rankings. The search engine game is constantly evolving!
How Does Google SERP Checker Tools Work?
The links you see on a search engine results page come from three places:
Pages the search engine has crawled and indexed
Sites manually submitted to the engine's directory
Pages that paid to be included
Search engines use super top-secret formulas and signals to decide how to rank all these pages. When you search, their algorithms analyze the indexed sites in real-time to put the most relevant ones higher up. They also adjust results based on your location, past searches, and other intel they've collected.
The big players like Google keep the nitty gritty details of their systems hidden. But experts have figured out some of the factors that matter, including:
- Backlinks Indicate Authority and Boost Rankings
The number of external sites linking to a page is known as backlinks. A higher number of backlinks signals greater authority on a topic and the site's trustworthiness. This, in turn, leads to better rankings by search engines.
- Careful Use of Relevant Keywords Improves Rankings
Using relevant LSI keywords and phrases related to a page's content focus can enhance search engine rankings. However, stuffing content with keywords or repeating them excessively is ineffective and may result in penalties. Moderation is key.
- Clear Organization and Readability Are Rewarded
Google and other search engines favor pages with clear structure, organization, and navigation. Content written in simple, readable language also gets a boost in rankings.
- Positive User Experience Factors In Rankings
Fast page loading speeds, strong security protections, and an overall positive user experience help boost rankings. Search engines want to surface sites that offer the best experience.
- Site Trustworthiness and History Are Analyzed
A site's credibility, longevity, track record, and other trust signals are analyzed by search engines and impact rankings over time. Sites seen as more reputable tend to rank higher.
- The Quest for Top Rankings Is Constantly Evolving
As search engine algorithms and ranking factors continually change, ranking highly in results is an ongoing battle. Success today doesn't guarantee future positions. Flexibility and perseverance are key.
SeoTopTools SERP Checker Tool Features
The features of Seotoptools SERP checker are as follows:
- Featured Snippets
Featured snippets are excerpts of content displayed prominently at the top of search results pages. When a user's query is in a question format, the search algorithm will identify a webpage with the answer and showcase a relevant extract as the featured snippet. This allows immediate access to crucial information without clicking through to the page. Featured snippets aim to satisfy informational search intents directly.
- Knowledge Panels and Graphs
Knowledge panels, also called knowledge graphs, appear in sidebar boxes and provide supplementary details about searches for specific entities like people, places, organizations, etc. They include relevant facts, dates, images, and contextual information to inform the searcher. Knowledge panels help satisfy navigational or informational intent.
- Local Packs for Local Business and Services Searches
For location-based queries seeking local businesses or services, local packs display a map with pins for recommended locations near the searcher. Additional info like customer ratings, contact details, and operating hours are also shown. Local packs aim to satisfy local commercial intent.
- Rich Snippets Showcase Key Business Details
Rich snippets concisely present defining details about businesses directly below the main search result, including star ratings, price range, or other highlights. This allows quick evaluation of search results without needing to click through. Rich snippets provide key details to evaluate local commercial intent queries.
- Image and Video Results
Image packs and video results from sources like YouTube commonly appear above web results, delivering visually relevant photos, graphics, and videos. Users can also reverse image search. Image and video results help satisfy navigational or commercial intent, especially for artists, products, etc.
"People Also Ask" Sections Provide Direct Answers to Related Questions
Many SERPs have a People Also Ask section suggesting other related questions with excerpted answers from authoritative sites. This allows easy access to supplemental information without additional searches, further satisfying the original navigational or informational intent.
Types of Search Results: Organic vs. Paid
- Organic Search Results
Organic search results are web pages that a search engine's algorithms and ranking signals have determined as most relevant for the query. They earn their position purely based on optimization for the engine's ranking factors rather than paying. Organic rankings are improved through ongoing search engine optimization (SEO).
Benefits of organic results include increased website traffic, demonstrating authority and trustworthiness, and strong ROI without paid costs. Organic listings aim to satisfy user intent through relevance rather than promotion.
- Paid Search Results
Paid search results, also called sponsored links or ads, are listings advertisers pay search engines to appear prominently on results pages, usually at the top. They are targeted based on an advertiser purchasing specific keywords.
On Google, paid ads typically show the first 3-4 results with an "Ad" label. Ranking factors include bid amount, ad relevance, and webpage quality. Most use a pay-per-click (PPC) payment model.
Benefits of paid ads include guaranteed top placements. However, some users are skeptical of promoted results only appearing due to payment rather than relevance. Paid ads aim to drive traffic through promotion and targeting.
- Balancing Paid and Organic Listings
Both organic and paid search are essential for capturing traffic and new customers. Organic results earn their rank through ongoing optimization and user satisfaction. Paid results guarantee visibility through promotion.
An effective search strategy utilizes both to complement each other - paid ads help attract users while organic results better convert them. A presence in organic and paid results allows brands to balance relevance with promotion.
How to Use SeoTopTools SERP Checker: A Step-by-Step Guide
If you're looking for a powerful yet user-friendly SERP checker, Seotoptools SERP checker is an excellent choice. It offers many features to help you track your website's performance and stay ahead of the competition. In this guide, we'll walk you through the steps of using the Seotoptools SERP checker to improve your website's visibility in search engine rankings.

Enter the keyword you want to check in the "Enter Keyword" field.
Select the location you want to check the ranking for. You can choose a specific country.
Click on "Search" to start the analysis.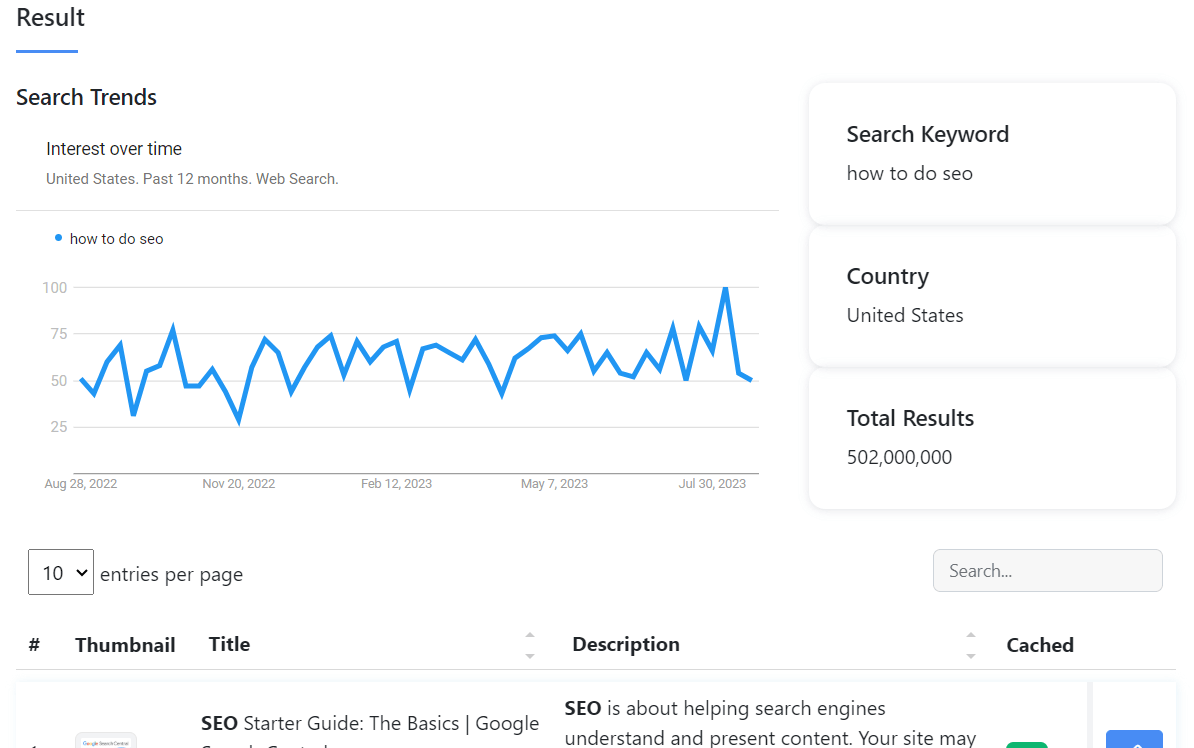 The tool will show the current ranking of the URL for the selected keyword in the location you chose. It checks ranking in Google search.
The tool shows the Search Trends, Country, Total Results, Website Position, Thumbnail, Title, Description, and URL of the target website.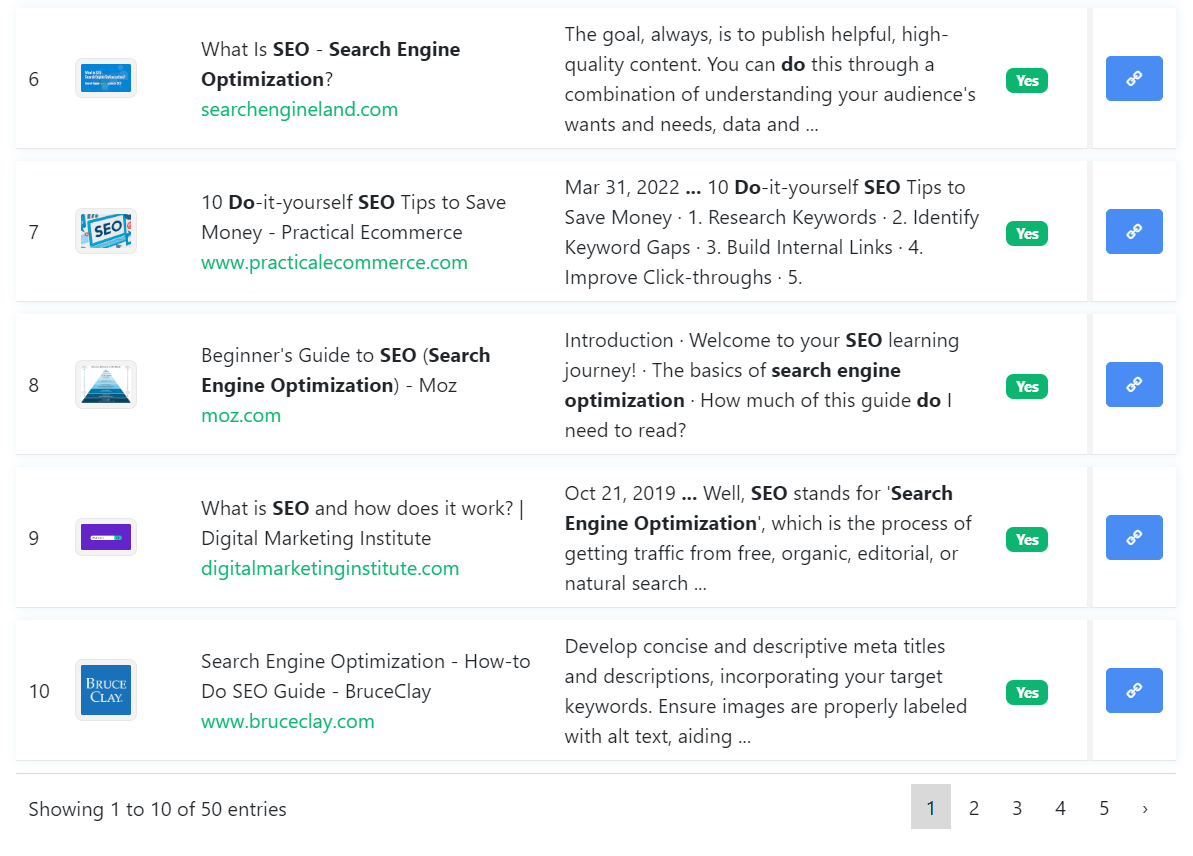 Scroll down to see more details like the top 10 ranking URLs, their titles, and descriptions.
Who Can Use the Google SERP Rank Checker Tool?
The SERP checker is valuable for many roles focused on search engine optimization, content marketing, and online visibility.
- SEO Professionals
For SEO professionals, the SERP checker enables real-time monitoring of rankings for client websites. Instead of waiting months, you can check weekly or daily to see how rankings change based on the latest optimizations. If you adjusted on-page elements or published new content, you can quickly see if it achieved the desired ranking boosts.
- Webmasters
Webmasters overseeing websites day-to-day can also utilize the tool to diagnose problems proactively. A sudden drop in rankings for important pages could signify technical issues or penalties. By catching them early using the SERP checker, webmasters can troubleshoot the root cause and work on fixes before rankings drop further. Webmasters managing multiple sites provide a bird's eye view of overall visibility.
- Digital marketers
Digital marketers running PPC and paid search campaigns can input keywords they are bidding on to analyze ad positions. If your ad does not appear on page one, you can adjust bids accordingly to improve placement. You can also refine ad copy while checking rankings to optimize click-through rates. As you make changes, the SERP checker evaluates if they had the desired impact on paid search performance.
- Bloggers and Content Writers
For prolific bloggers and content marketers, the tool helps strategize content more effectively. You can input existing article headlines or topics to see where they currently rank, which provides insight into how well you target keywords. You can first research keyword difficulty by visiting what ranks presently for new articles. This allows the creation of content optimized for valuable long-tail keywords.
- Affiliate Marketers
Affiliate marketers can leverage the tool to maximize commissions by ranking higher for buyer keywords. Check how affiliate links or landing pages rank for keywords related to the product. Use the intel to tailor your website, content, links, and tags to target high-converting terms.
On the business side, brands can monitor overall search visibility by tracking rankings for relevant keywords, such as locally targeted phrases. Competitor tracking is another valuable use case. By checking orders for competitor brand names and products, you can research what keywords they target and see opportunities to outrank them.
What makes the SeoTopTools SERP checker tool better than other Serp ranking tools?
Seotoptools stands out through its versatility, depth of data, and accuracy. Key advantages include:
Check actual Google rankings, not estimates. Provides real-time snapshots of where your pages rank.
Broad location targeting. Can customize location down to city level for localized rankings.
Filters for devices and search engines. Compare desktop vs. mobile rankings.
Complete SERP data beyond just rankings. See associated keyword stats like volume and CPC.
Easy-to-use interface and shows search trends of keywords.
Tips for Using SERP Checker for Better SEO
SERP data is only helpful if correctly interpreted and applied to SEO strategies. Here are some essential SEO techniques.
- Technical Optimization
Technical optimization involves optimizing behind-the-scenes elements like XML sitemaps, schema markup, site speed, responsiveness, and overall infrastructure. XML sitemaps provide search engines with detailed information about a site's pages. Schema markup enhances how content appears in search. Fast load speeds and uptime improve crawler access and user experience.
- On-Page Optimization
On-page optimization means creating valuable, engaging content optimized for search ranking factors. This includes comprehensive use of relevant keywords in headings, meta descriptions, alt text, and page content without over-optimizing. Easy site navigation, internal solid linking, readable layouts, and compelling calls-to-action boost on-page SEO. Content management systems help manage on-page elements at scale.
- Off-Page Optimization
Off-page optimization builds credibility and authority through external signals like backlinks, social shares, press mentions, and overall brand visibility. High-quality backlinks from respected sites demonstrate trust and popularity. Social media campaigns, PR outreach, partnerships, and thought leadership establish domain authority.
- Core Web Vitals and User Experience as Key Ranking Factors
Google now emphasizes Core Web Vitals metrics and overall user experience as top-ranking factors. Fast page speeds, easy navigation, readable content, and responsiveness indicate quality and satisfy intent. A positive user experience signals relevance and boosts organic rankings.
- SEO Requires Continuous Analysis, Improvement, and Adaptation
Effective SEO is an ongoing process of optimizing, monitoring, and iterating. Regular analysis of site performance, rankings, and search trends allows for improving what works and changing what doesn't. Adaptability to Google's evolving algorithms is critical. The competitive SEO landscape demands constant optimization.
FAQs
How accurate are the rankings compared to other tools?
Seotoptools pulls rankings directly from Google, which produces highly accurate results. The orders match what any user would see in a search. Comparatively, some free tools only show estimated positions, which can be unreliable.
Does it work for international SERPs and languages beyond English?
Yes, you can choose any country location when customizing for local rankings. Non-English keywords are supported for languages using Latin alphabets.
How often can I check rankings with Seotoptools?
You can check rankings as often as you want. There are no usage limits. Pay-as-you-go plans allow checking daily, weekly, or at custom intervals depending on needs.
What factors can influence rankings and SERP results?
Many elements like content, backlinks, site speed, user engagement signals, and search algorithm updates can cause rankings to shift. Use SERP checkers to monitor continually.
How can I track competitor SERP rankings?
You can view their current ranking positions by inputting a competitor's URL and target keywords into rank checkers. Comparing to yours helps identify opportunities to outrank them.