GIF To PDF Converter
With our Free online GIF To PDF Converter you only need to upload the GIF file, press Convert to PDF, and then click Download. It will only take a few seconds to complete the process.

GIF To PDF Converter Online
Seotoptools GIF-to-PDF converter is highly efficient, and it can combine many GIF files into a single PDF to make them easier to share. You don't have to save or share all of your GIF files individually. Simply use our GIF to PDF conversion tool to convert your images to the portable document format. The best part is that no specific skills are required. With only a few taps on your smartphone, you can easily combine a large number of images into a PDF. You may use this GIF-to-PDF converter for personal and social networking purposes.
Daily Search Query Usage Limit for Our Tool is Explained Below:
| | Daily Usage | Single File Size | No of Files Upload at Once |
| --- | --- | --- | --- |
| 👤 - Gust Users: | 10 - 🔎 Search Query | 15 - 💾 MB | 5 - 📁 Files |
| 👋 - Registered Users: | 15 - 🔎 Search Query | 25 - 💾 MB | 10 - 📁 Files |
| 👦 - Basic Premium Users: | 25 - 🔎 Search Query | 156 - 💾 MB | 15 - 📁 Files |
| 👨‍✈️ - Professional Users: | 35 - 🔎 Search Query | 4096 - 💾 MB | 15 - 📁 Files |
| 👮‍♂️ - Agency Users: | 50 - 🔎 Search Query | 4096 - 💾 MB | 15 - 📁 Files |
| 🏢 - Enterprises / Organizations: | 75 - 🔎 Search Query | 4096 - 💾 MB | 15 - 📁 Files |
How Can You Use GIF To PDF Converter Tool?
You can use our free GIF To PDF Converter online tool by following easy steps. The easy steps below will show you how to simply convert a GIF in a PDF: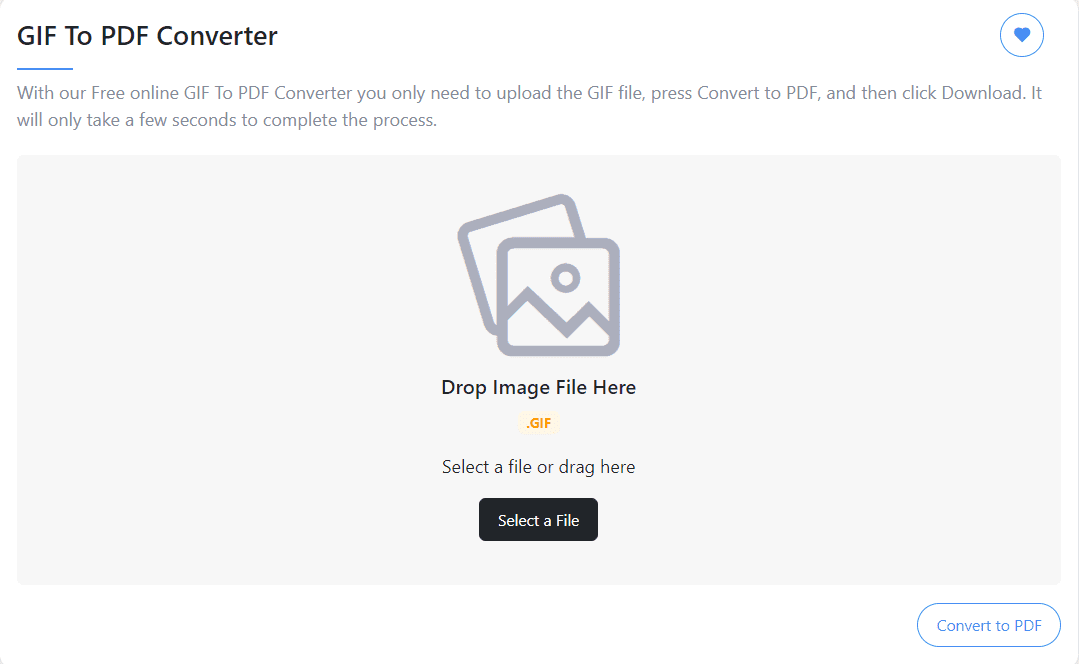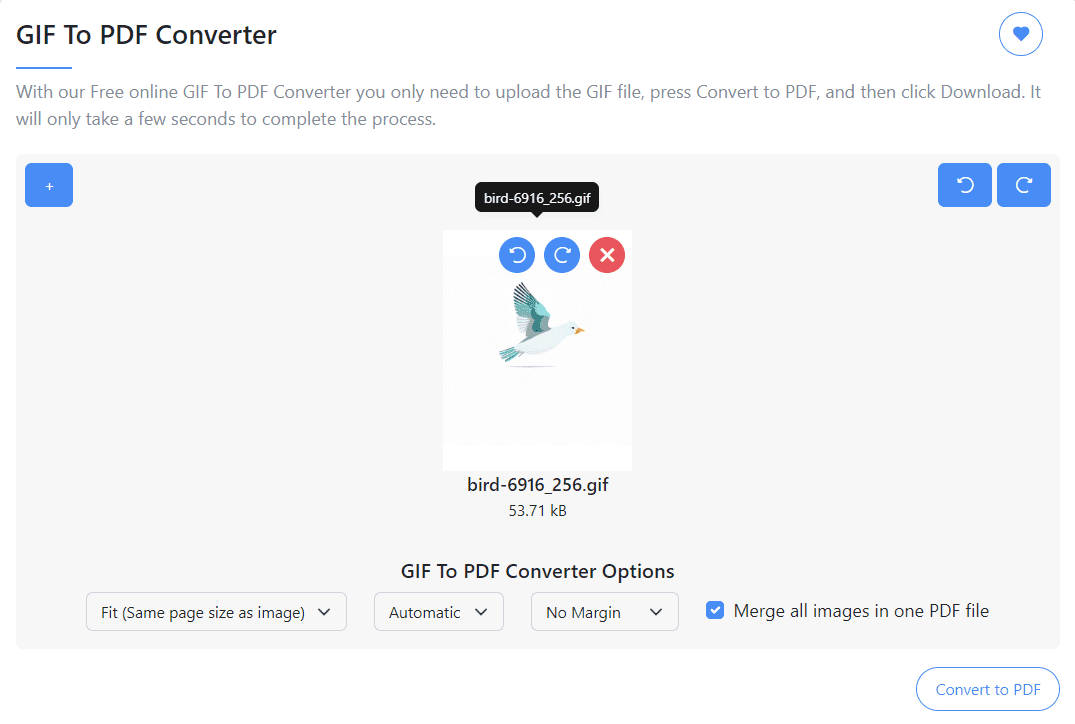 Set the settings, click on the "Convert to PDF" Button, and see how it works.

Within seconds, it will convert your multiple GIF files into a single document file.
You can easily download a PDF File by clicking on the "Download Arrow" button.
How Does Our GIF to PDF Converter Work?
Our GIF-to-PDF converter is based on highly advanced algorithms that can merge several GIFs into a single PDF without affecting resolution. Once the GIF pictures are uploaded, algorithms begin to analyze the file and combine the images into a PDF while ensuring that no part of the images is compromised. Additionally, during the whole conversion process, the image quality remains intact and unchanged.
Why Should You Use SeoTopTools GIF to PDF Converter?
Undoubtedly, there are many online GIF to PDF Converters available on the internet. However, the majority of converters have barriers or limitations that frequently irritate their customers. However, SeoTopTools services are free of these problems and give you access to the quickest way to convert GIF images to PDF documents. A few key advantages of our online GIF-to-PDF converter are listed below.
- 100% Free
You won't have to pay anything to convert a GIF file to a PDF with our tool. This GIF to PDF Converter is completely free for all its users.
- Data Protection
Your uploaded GIFs won't be accessed by anyone else. Furthermore, we promise that your submitted files will never be shared with any third-party source. The best feature of our free GIF-to-PDF converter is that when the conversion is complete, all of your submitted GIF files will be removed from our servers.
- Quick Results
Combining PDF files with GIFs takes less time. You may convert GIF files to PDF online quickly and without compromising the images quality.
- Limitless Conversion and Download
Users of our program may easily convert thousands of GIF files to PDF. You will not face any limitations when using our free online GIF-to-PDF converter.
- All Devices are Supported
All electronic devices, including mobile phones, tablets, and personal computers, are supported by our free GIF-to-PDF converter. Similarly, you may view and convert a large number of GIF picture files to PDFs using any operating system, including Android, iOS, and Windows.
FAQs
What types of GIF files can I convert to PDF?
Our converter supports all standard GIF image types - animated GIFs, still GIFs, transparent GIFs, black & white GIFs, etc. Any GIF can be converted to PDF.
How many GIFs can I convert at one time?
You can bulk convert unlimited GIFs to PDFs in one go. Simply upload all the GIFs you need to be converted and download the merged PDF.
Does converting GIFs to PDFs reduce their image quality?
No, the image quality is preserved perfectly when converting to PDF. There is no compression during conversion.
Can I reorder pages or delete GIFs before conversion?
Yes, you can easily reorder and organize GIFs before converting using the tool's drag-and-drop interface. You can also delete any unwanted GIFs.
Does the converter work on mobile devices?
Yes, the GIF-to-PDF converter is fully compatible with both desktop and mobile browsers. You can convert GIFs to PDFs on the go from your phone or tablet.